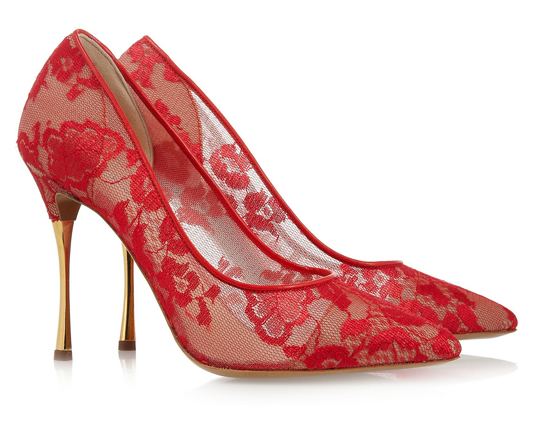 When you're done drooling over them, we'd like to talk to you about the Nicholas Kirkwood lace mesh pumps that we've chosen as today's lunchtime buy.
Go on, stop looking at the picture for just one second and let us tell why you need to splash your cash on these babies. That's if the picture didn't convince you enough already!
We bet Dita von Teese will be totally all over these babies; they're the perfect mix of sexual, sensual and sensible all rolled into one with their dramatic yet ladylike design and relatively modest heel.
Accesorise these Nicholas Kirkwood lace mesh pumps with a Dita style corset dress, or wear them with an otherwise plain outfit so they can really stand out. If you're looking for your first real autumnal buy, we'd seriously recommend snapping these up – Christmas, Valentine's Day, there's never a bad time to wear red!
To add more panache and glamour to your look, why not try concept based corsets with these red mesh pumps.
Nicholas Kirkwood lace mesh pumps, £520, Net a Porter