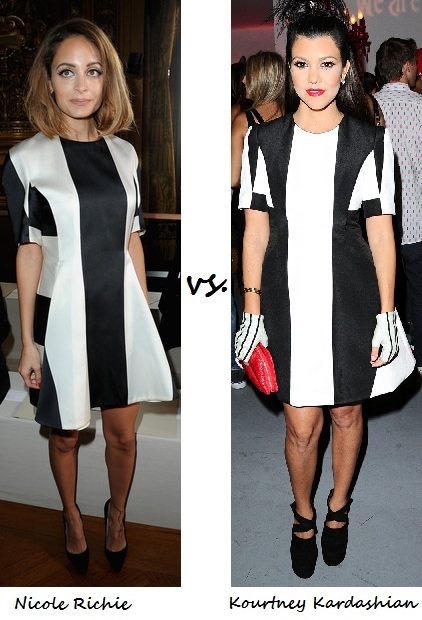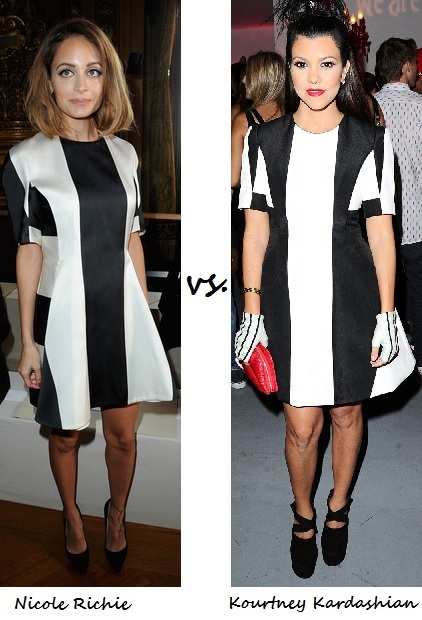 Although monochrome originally set our hearts aflutter for spring/summer 2013, when our peepers landed on this week's fash-off contestants, we once again gasped in awe!
The sheer beauty of a vertical zebra crossing-esque print in a dress is enough to get the dialogue going at MFL HQ, and that's why we've picked Nicole Richie and not-far-from-a-camera Kourtney Kardashian as this week's Who Wore it Best candidates, in a stunning, striped Stella McCartney number.
First up, Nicole Richie took to the front row at Paris Fashion Week back in March, when she wore the striped A-line dress to the Stella McCartney autumn/winter 2013 show. Looking radiant as ever; Nicole completed her look with a relaxed shoulder-length bob and simple black pumps.
But catching up in the style race was Kourtney Kardashian, who hasn't been on our style radar for the right reasons, lately! Kourtney attended the extravagant, Alice In Wonderland themed 16th birthday bash for fellow sibling, Kylie Jenner, in August, sporting said dress. Accessorising with a fancy featured headpiece, fingerless gloves (very Kaiser Karl) and cross-strap platform heels, she rounded the look off with a bright red lip.
With such a bold dress, and two very different looks, it's a tough one to choose between this week, but we're going to go with Nicole on this one! We get it: Kourtney's channelling an upscale Tweedledee/dum in a dress (sorry, Kourt!), but it's literally too fancy dress for us. Skip the OTT gloves and headpiece, and she's got a winner on her hands (pardon the pun). Nicole's fuss-free styling and glossy locks win by a strong style mile.
Agree with our verdict? Tell us your thoughts below.
[Images: Nicole; Kourtney]