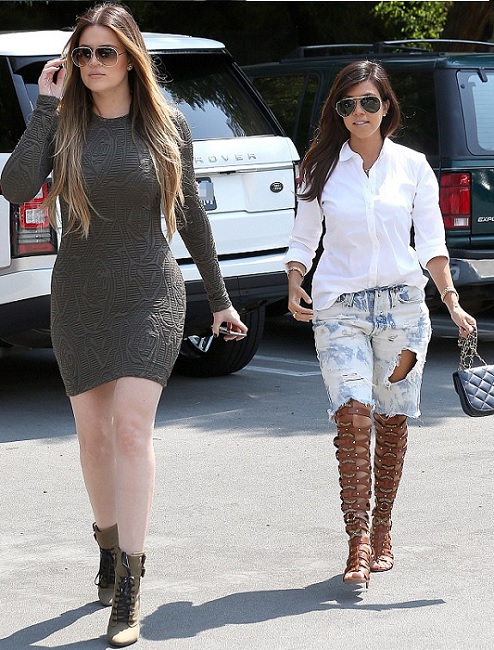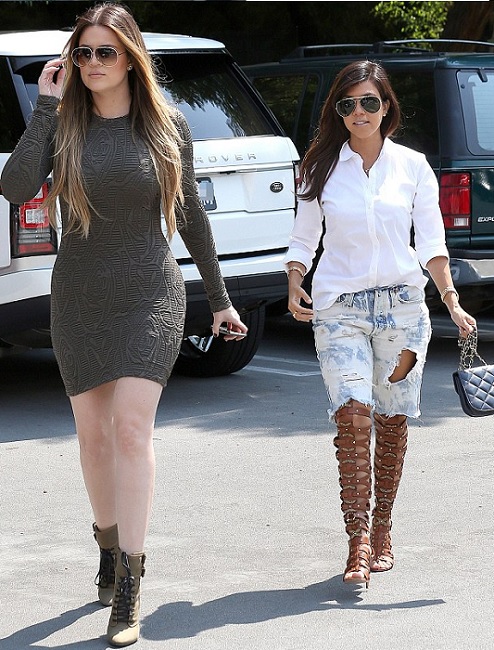 Given we're all about rule breaking this week, we thought to shake things up and bring you our Worst Dressed celeb of the Week. We're always waxing lyrical about pristinely dressed A-listers, so how about acknowledging those amongst us who take it upon themselves to make us wince every time we look at their outfits?
Guilty as charged this week is one part of the super-extended Karadashian clan, Kourtney Kardashian. Stepping out in LA with her relatively well-dressed sibling, Khloe, Kourtney's eye-watering outfit quickly diverted our attention. What is that we see? A shudder-inducing mishmash of sorts, that's what!
Pairing an otherwise gorgeous pair of heeled gladiator-style sandals with ripped, acid wash bermuda shorts, a white shirt and aviator sunglasses, Kourtney didn't quite make the kind of fashion statement she probably had in mind when getting dressed.
Broken down, her outfit is great: classic aviator sunglasses; a classic, crisp white shirt; summer-perfect sandals and bermudas Rihanna wouldn't mind rocking. But thrown together, this outfit really is a case of sartorial sacrilege! (We shudder to think what Kanye had to say about this)
The oft-polished reality star was probably having an off day (who doesn't?), so here's how we suggest she rework this 'look': shorts, not Bermudas, would work well, and ditch the shirt for a relaxed fit tee. Keep the sunnies and bag, and you're good to go!
[Image]