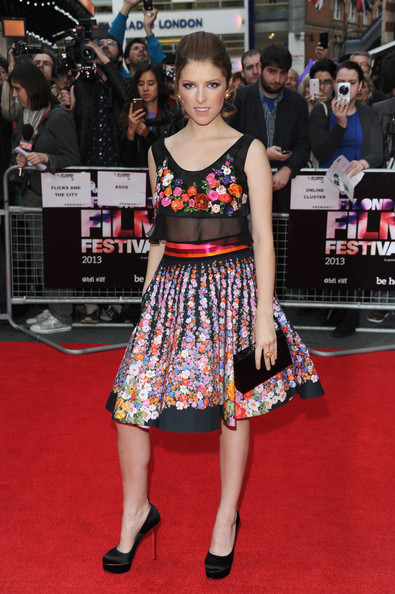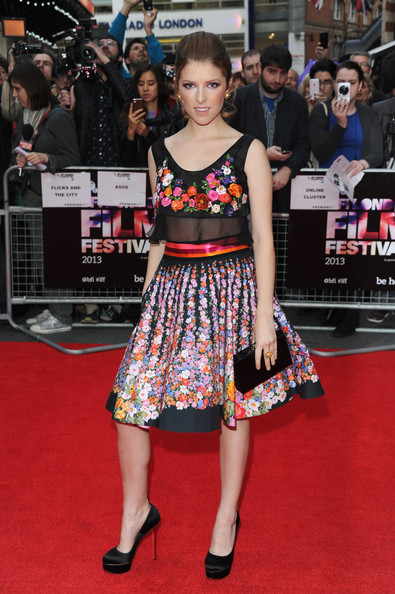 You know that gutting feeling you get, when a show-stopping runway look just doesn't translate so brilliantly in real life? Yeah, that. And, sadly, we're suffering from a serious case of it this week.
Disappointing us in a runway-to-real-life situation this week is Anna Kendrick, who took to the red carpet for the screening of Drinking Buddies during the 57th BFI London Film Festival, earlier this week, in a spring/summer 2014 Alberta Ferretti skirt and crop top ensemble.
Although the floral wash has winter bloom appeal, the runway look was by far our favourite; a slice of midriff was on show, whilst ribbon-tie flats and drop earrings in vibrant orange sealed the sartorial deal.
OK, we get it, we know. The model on the runway, what with her endless legs and Amazonian glow, was bound to look impeccable. But on Anna, the look just didn't sit right. The full-bodied A-line skirt we love, but the crop top fell awkwardly on the waist band, concealing the waist-cinching effect of the skirt.
The simple black pumps and matching clutch go well with the bold look, but we're digging a little more midriff display! Top marks for hair and make-up, though.
What do you think? Is our WDOTW a fair decision?
[Image: Zimbio]