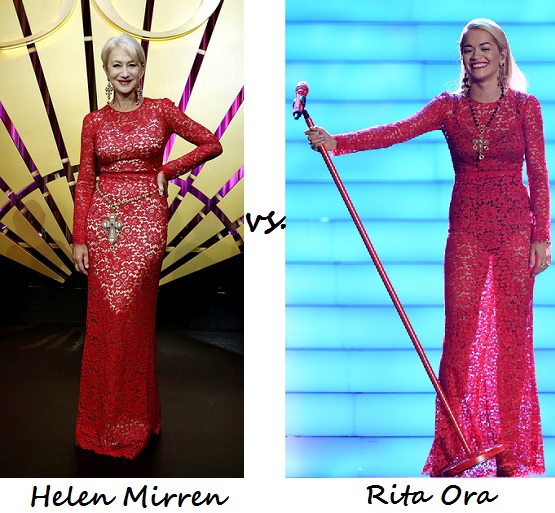 Another week, another frock-off worth dissecting! This week, two ladies at opposite ends of the style spectrum pulled of the same Dolce & Gabbana gown with such aplomb, our jaws dropped below our knees in awe.
Dame Helen Mirren and Rita Ora stepped out, at different events, of course, in a red lace Dolce & Gabbana dress, otherwise known as a sure-fire sartorial hit. Rita got first dibs on the dress, as she wore it to perform in Las Vegas last month, whilst Dame Helen opted to wear it last week, at the Mandarin Oriental Hong Kong's 50th Anniversary Gala.
Stylistically, both Rita and Dame Helen are pole opposites – although both do love to dabble in fun fashion every so often – and this showed in their individual looks. Whilst Dame Helen opted to wear the red lace number atop a full-length white silk slip, Rita went for a slightly more risqué look, covering up underneath with a black bodysuit.
Dame Helen's soft long crop looked elegant against the striking gown, and, although we think it wasn't really necessary, wearing the crucifix necklace as a cummerbund is pure jewellery genius! Completing the look were matching crucifix earrings.
Rita's not one to shy away from experimenting with her wardrobe, and vamping up otherwise traditional red carpet looks is what she does best. In her element with this look, she opted for sleek, side-parted hair; crucifix earrings and matching necklace, and her signature crimson pout.
Although we think both Rita and Dame Helen nailed Lady In Red style, Dame Helen takes the prize for this one. She looks poised, yet she's unafraid to break free from the stereotypical style rut often associated with senior figures in Hollywood: the perfect balance between demure and daring. We love it!
Whose look wins for you?
[Images: Dame Helen Mirren; Rita Ora]