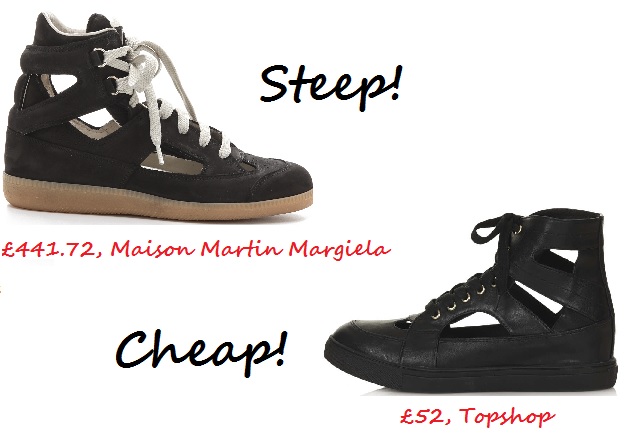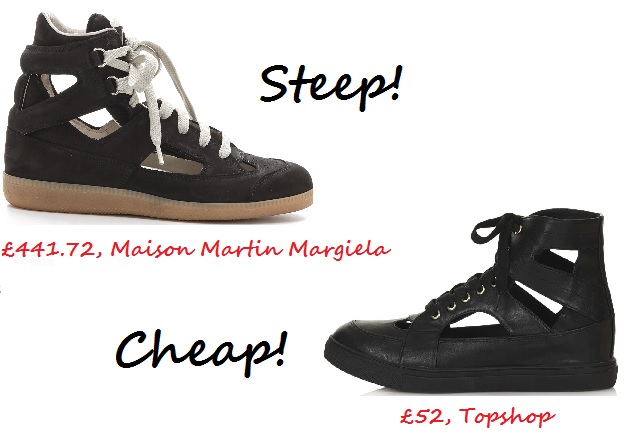 With the holiday season set to be a party-led heel marathon, sneaking in as much 'comfy time' as possible is called for. And, we can't think of a more fashionably acceptable way of doing 'comfortable' than in a pair of too-cool-for-sports sneakers.
Rihanna's a fan, so is Miley Cyrus. Heck, even the God of leather pants, Kanye West, isn't seen without his beloved sneakers, convincing even the missus to slip into a matching pair! And thanks to these taste makers, the humble sneaker's sporty vibe has been elevated to a whole new level of wearable cool.
Unsure how to channel the luxe sneaker trend without being mistaken for a gym bunny? Why, with our Steep vs. Cheap sneaker picks, of course!
In at the steep end this week, Maison Martin Margiela's cut out sneakers in black suede are making us want to ditch heels for good. Featuring a soft suede hi-top outer, contrasting white laces and all the padded comfort of a cotton cloud, are you sold on the £441.72 price tag? We are. (Sorry, landlord)
But, hold fire if you fear your fashion fund depleting, because we've tracked down an equally wardrobe (and pocket) friendly version of the mighty Margiela sneaker. Head to Topshop, and snap up the Ashton cut out sneakers for a very reasonable £52. Win win!
Will you splash the cash or curb the urge?
Steep: Maison Martin Margiela suede cut out sneakers, £441.72, available at Shopbop
Cheap: Ashton cut out trainers, £52, available at Topshop