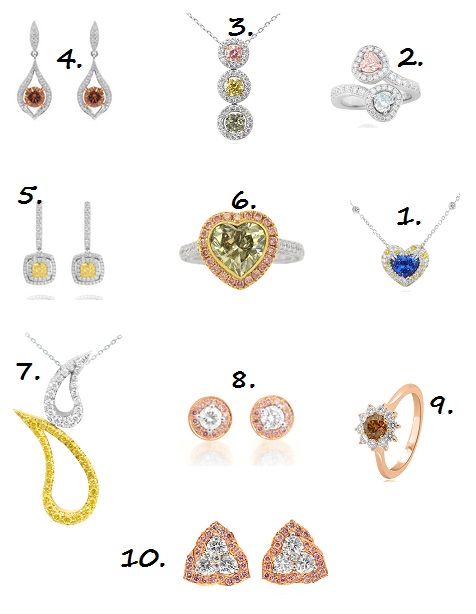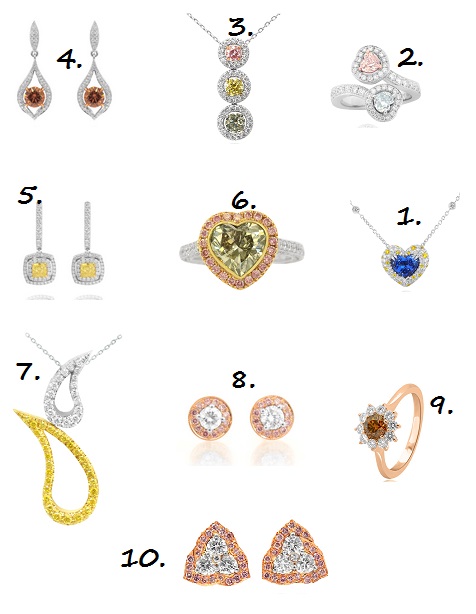 Are you on the hunt for that "special" gift…..a gift that says, "I love you and appreciate you" or perhaps you want to treat yourself to something luxurious and everlasting? Nothing fulfils both options than a timeless piece of jewellery….preferably diamonds. As the saying goes, "a diamond is forever!".
With Christmas round the corner we've selected the finest and most opulent jewels that'd make the perfect gifts. From beautiful champagne diamonds to festive and colourful blue diamonds here are 10 timeless jewellery gift ideas for a loved one or yourself!
1. 5.55 Carat, Heart Tanzanite White and Fancy Vivid Yellow Pave Diamond Pendant, Heart – Both delicate and dramatic this gorgeous blue diamond pendant set with yellow diamond accents is oh so pretty!
2. 0.75 Carat, GIA certified Light Pink And Light Green Hart Diamond Halo Ring, Heart, VVS2 – Exquisite and unique…that's why we love this gorgeous double heart light pink and green diamond ring.
3. 1.40 Carat, Multicolor diamond pendant, Round – We know we shouldn't play favourites but this pendant with its burst of colour is our fave by far.
4.2.50 Carat, Fancy Orange Brown and Collection Diamond drop earrings 2.50ct set in 18K Gold, Round – Not everyone is a fan of drop earrings so make sure that your loved one owns a pair or two before investing in these chic orange brown diamond drop earrings.
5. 1.03 Carat, Fancy Intense Yellow Cushion Diamond Drop Earrings, Cushion, VS2 – Gift these yellow cushion diamond drop earrings to someone whose style screams ladylike glamour!
6. 4.68 Carat, Greyish Yellowish Green Heart Diamond Ring with Pink Pave Diamonds, Heart, SI2 – Set in white gold this dazzling green heart diamond ring is the ultimate in elegance.
7. 0.16 Carat, Fancy Vivid Yellow & Collection Pendant, weighing 0.16cts set in 18K White Gold, Round – With its unique design this tear drop motif pendant is a perfect glam addition to any jewellery collection.
8.0.38 Carat, White and Pink Diamond Round Pave Set Earrings weighing 0.33ct & set in 18K Gold, Round – You can't go wrong with a pair of studs. These white and pink diamond round pave set earrings are simple yet striking.
9. 0.51 Carat, Fancy Brown Diamond Basket Halo Ring, Round, SI1 – Stunning! That's the most accurate description for this absolutely gorgeous diamond basket halo ring.
10. 0.41 Carat, Fancy Pink and white diamond pave set earrings, Round, VS1 – Last in our guide are these princess perfect pink and white diamond earrings set in white and rose gold. Classic and beautiful!