Last Updated on 6th January 2014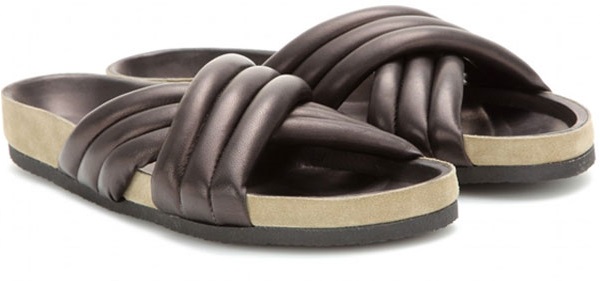 Spent the holiday season stuck in heels? Are the balls of your feel crying out in again, begging for a break from the four inchers sat in your shoe closet? If so, then cast your eyes on this week's Yay or Nay shoe, because there's not a platform or kitten heel in sight!
Enter the Holden leather sandals by Isabel Marant. Better known for her sell-out wedge sneakers, Marant has worked her magic in fashion's newly favoured 'ugly shoe' department, and the result? Uber-comfy, quilted leather sandals perfect for your next sunny venture. But, would you dare slip into them?
Check out our reasons for saying Yay and Nay to a heel detox (yup, that's a thing) below:
Yay
Your podiatrist would be proud: Given the health benefits often associated with wearing heels are few; a heel detox is just what the doctor podiatrist ordered. Comfort never looked so good.
Great price: At £280, although not the cheapest in te market, the Holden sandal has decent price point for high-end leather.
Carry-through trend: After Phoebe Philo made it OK to shamelessly wear furry Birkenstocks, the surge in 'ugly shoes' has been impressive, and is still going strong. Heels? What heels?
Nay
Not weather-proof: Well, given we're battling unpredictable weather this side of the pond for most of the year, making a splash in the Holden sandals, or risking frostbite, is the last thing your feet will want.
Lazy effort: As much as we love the comfort factor these sandals offer, the casual factor may just go too far. Paired with tailored wool trousers in a glossy editorial, they may look the bomb, but in reality, you risk dirty looks from you boss for wearing these to the office in the name of "fashion."
Permanent pedicures: We can all admit to forgoing the essentials of ladylike grooming once in a while, by letting our manis and pedis suffer. If you're snapping up these sandals, then expect a regular visit to your local nail salon for a fresh lick of polish every time you dare to bare (your feet that is).
Will you step down (literally) into these flats?
Isabel Marant Holden leather sandals, £280, available at My Theresa.