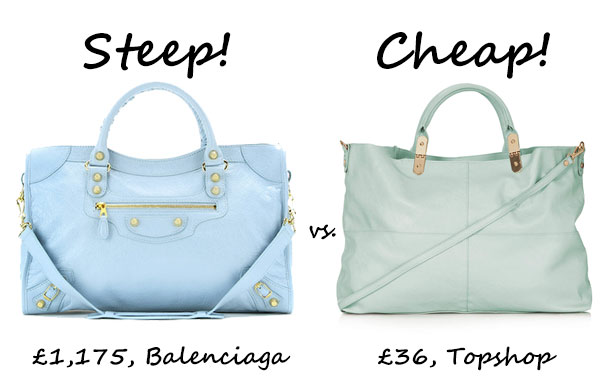 If you're tired of sporting a boring black bag to match the glum weather, how about prepping for spring with this week's Steep vs. Cheap find? We're introducing the spring-soft colour of pale blue into our January wardrobes, and there's no better way to do it than with a practical (and gorgeous) tote!
Welcome the bag-of-dreams, the Balenciaga Giant 12 City leather tote (£1,175), at the steep end. Splashed in a new season hue of pale blue, the iconic tote is crafted from goat leather and comes with all the trimmings, including a detachable shoulder strap and gold-plated stud detail.
But, if your bag budget isn't so generous, then our Topshop find will work wonders! A steal at only £36, the Suede Backed Tote comes in the softest duck egg shade, and guarantees to fit your life (and more) in it. Also with a detachable shoulder strap, we won't blame you for using this roomy beauty to within an inch of its life.
So, will you save or splash out? Shop both options below.
Steep: Balenciaga Giant 12 City leather tote, £1,175, available at My Theresa.
Cheap: Suede backed tote, £36, available at Topshop.