Last Updated on 4th February 2014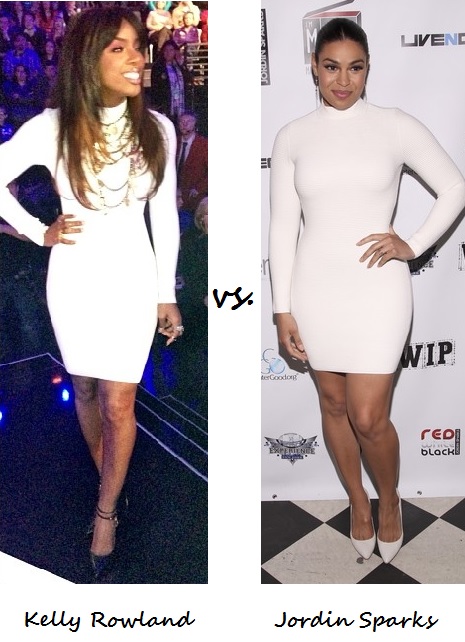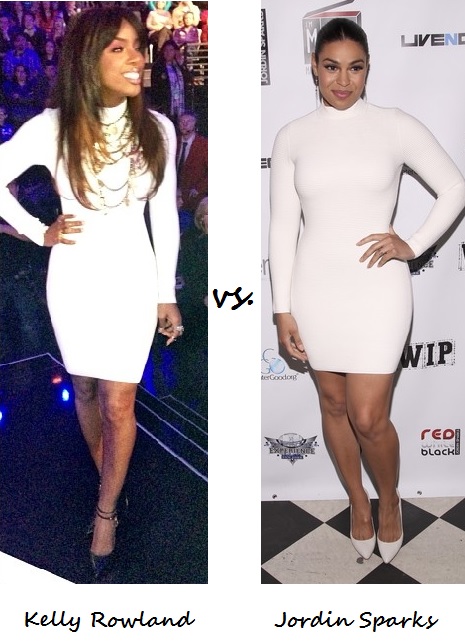 It really throws us at HQ, the way one dress can look so completely different styled on two people. And this week, dividing opinion are two ladies in a simple, curve-skimming number. Enter Kelly Rowland and Jordin Sparks in the Torn by Ronny Kobo Moira dress. Both sporting perfect bodies – and vocals – naturally we had to weigh in.
First up to slip in to the white mock turtle neck dress was Kelly, who took to the X Factor stage late last year in said dress. Paired with a tiered necklace and ankle-strap dolly shows, Kelly opted for mid-parted bangs and long, glossy locks to complete her look.
But, giving the leggy crooner a run for her money was Jordin Sparks, who was a vision of voluptuous perfection at the Welcome to New York Red, White and Black Super Bowl party last week. Opting for a slicked back high ponytail, minimal make-up and matching white pumps, sleek earrings and a winning smile effortlessly rounded off the look.
So, who topped the style poll this week? Sorry Kelly, but we're crowning Jordin victorious! Kelly's attempt to add interest to the simple dress went a bit overboard, as the open hair, fussy necklace and high neckline all appear a little try hard when put together. Although simple, Jordin's look is impactful, and we're all for head-turning minimalism!
Whose look wins for you?