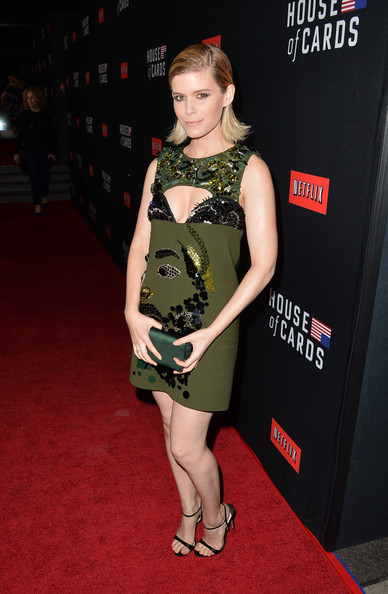 We feel pretty blah when a good dress gone bad situation occurs. Like in this instance, when Kate Mara decided to bring a little Prada spring 2014 glory to the red carpet at the 'House Of Cards' season two screening in L.A.
Prada, ALL HAIL Prada! That's the usual way to welcome a look from Lady Miuccia, as it's always so breathtaking, but Kate's embellished dress featuring a hyper face motif just missed the mark.
The thigh-grazing dress features heavy black embellishment, with a cut-away section for extra cleavage breathing space (well, that's what we call it). Styled with dainty ankle-strap sandals and slick, side-swept hair, Kate completed her look with sultry eyes, nude lips and a matching Prada clutch.
The accessories, hair and make-up are on point, but the lack of dress length, extra boob-show and a hefty dose of look-at-me sequin and bead adornment are too much to throw into one dress. Maybe a longer hemline, or doing away with the cut-out detail could rescue this look, but as it stands, it's a miss for us.
Do you think a toned down version of this look could've worked?
[Image]