Last Updated on 17th February 2014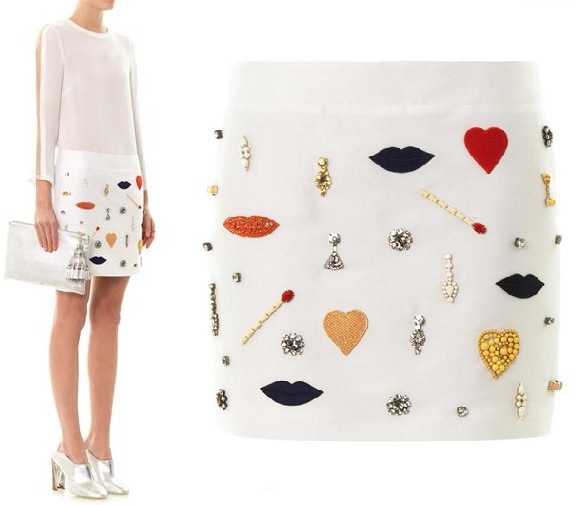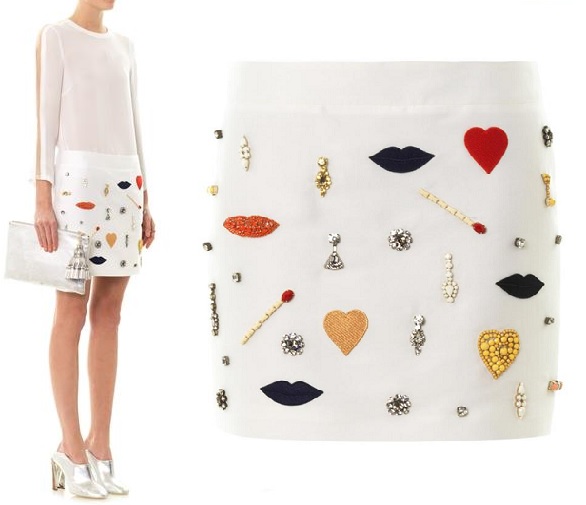 If you're anything like us, you'll have grumpily slipped into yet another pair of jeans this morning. Oh, how we long for you, sunny spring! Strictly speaking, we're still on the other side of holiday-inspired cocktails and barely-there dressing, but what's a girl to do if not dream?
And, making us dream this a.m. is the stunning Surrealist embellished mini skirt from Stella McCartney (£865). Leaving us pining for enviably tanned (and toned) pins, this silk and cotton-blend number packs an artistic punch, featuring crystal and bead Surrealist motifs.
Making for an exciting addition to your wardrobe from the designer who fulfills every woman's desire to dress like the boys – but with feminine flair – are you tempted to give in and snap up some Stella M goodness? Below, we help you rationalise the fashion binge…
Yay
Easy party look: This skirt easily removes the need for a party dress. Style with a casual tee, heels and a clutch, and you're good to go!
Great for the holiday wardrobe: Late night parties on the beach? This skirt ticks all the right boxes, without being an overpowering, overly-decadent (and overheating) addition to your suitcase.
Day-to-night investment: Dashing to an after work event, or cocktails? Pair this skirt with a cosy grey knit and ankle boots by day, before switching it up for some evening glamour (see easy party look above).
Nay
Price: Erm, did we say this piece of art cashes in at £865? Yes, that's just over one months' rent, in case you were wondering.
Colour: White: not the most practical of shades, so you'll need to hatch up a befriend-the-dry cleaner plan before buying.
Delicate: Given the delicate motifs are what make this mini skirt masterpiece just that, they're also prone to damage. If you're planning on dancing many nights away in this skirt, you might want to reconsider the consequences. Serious dancers: maybe a brunch/dinner à deux might be better suited?
Stella McCartney Surrealist embellished mini skirt, £865, available at Matches Fashion.