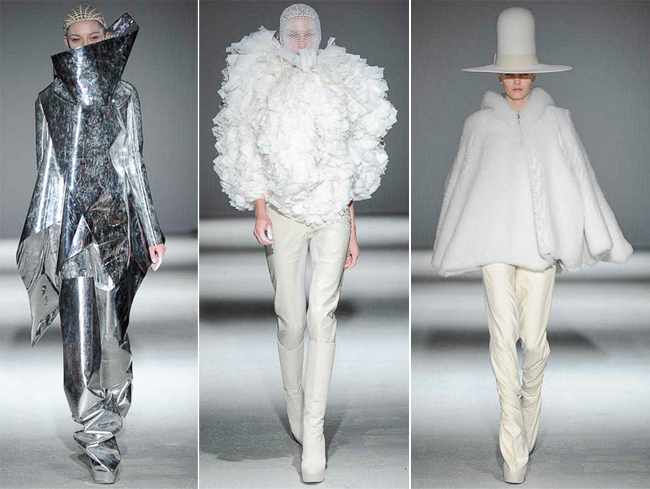 Day 2 of Paris Fashion Week brought us some versatile sartorial new-season delights from some of the fashion big guns such as Gareth Pugh, H&M, Alexis Mabille, Vionnet and Dries van Noten, among others.
GARETH PUGH AW14 
We think Gareth Pugh gets the award for most talked-about and most theatrical show, as he sent some of his models down the runway with wind-up keys on their backs making them look like a cross between wall-clocks and wind-up dolls. If they weren't walking around with heavy machinery on their backs, they had very tall – and probably very hard to maneuver in – hats on their heads.
Although there were many distractions on the Gareth Pugh autumn/winter 2014 runway, we did manage to pay attention to the clothes too, and discovered that the collection went in yet another different direction to the one we saw last season; yet it was pretty similar in that signature Gareth Pugh only-something-Lady-Gaga-would-wear aesthetic. Reflective, shiny materials juxtaposed with an abundance of plastic and over-the-top fluffy fur, exaggerated silhouettes and so much more.
H&M AW14 
Paris Fashion Week isn't just about the big designers, as H&M came out to play by presenting its autumn/winter 2014 collection to a star-studded front row (Miranda Kerr, – the new face of the brand –Jessica Alba and Beyonce's little sis, Solange Knowles, were all in attendance) at the Grand Palais, otherwise known as the home of the highly anticipated Chanel shows.
We saw one of the most wearable and covetable collections hit the runway, with everything from sparkly sequin sweater dresses to comfy cosy cashmere rollneck jumpers all making an appearance. The colour palette was bright and bold to make up for the extreme wintry pieces (the bright orange turtle neck jumper is an MFL fave!), and we predict everyone from A-list celebs to the penny-pinching fashion bloggers to everyone else in-between will be fighting amongst themselves to get a piece of the new season pieces when they land in stores.
VIONNET AW14 
Tulips – and lots of them! Tulips pretty much dominated the Vionnet autumn/winter 2014 collection, as they found themselves on the models' asymmetric dresses, the backdrop, and everything else in-between. The colour palette was reminiscent of springtime, with greens, whites and greys finding their way onto most of the pieces. We bet the Vionnet girl will feel feminine, with a free-spirit can-do attitude similar to that of Julie Andrews in The Sound of Music. 
DRIES VAN NOTEN AW14 
Another autumn/winter 2014 collection which was influenced by flowers and all things we find in nature came courtesy of Dries van Noten – something which doesn't really surprise us given the Belgian designer's keen interest in gardening. We saw a fluid collection comprised of midi skirts, pencil skirts, jumpers and simple tees, with the real stand-out pieces coming with flowers and other such artwork literally jumping out at us in a 3D fashion.
"I was interested in moving between 2D and 3D," he reportedly said of the collection backstage. "I like the freedom of hand-painting against very controlled, graphic lines."