On with Day 2 of Paris Fashion Week! Dries Van Noten presented another typically print-tastic collection, with coats, dresses and all else in between receiving the signature pattern and panel treatment that has become a staple for the brand over the seasons.
Gareth Pugh fancied him a runway show this season as opposed to his usual video presentations, and his dramatic collection certainly reflected and accommodated that. It was all very gothic, as black leaves dropped from the sky as the models made their way down the runway in sharp, sculpted, exaggerated, high-collared garments with an abundance of fur, fringe and zips to boot. And speaking of boots, thigh highs were an essential on the foot of every catwalk model! Who would wear this collection then? Our money's on Lady Gaga, Rooney Mara and Daphne Guinness (seeing as she was sat poised and pretty on the frow).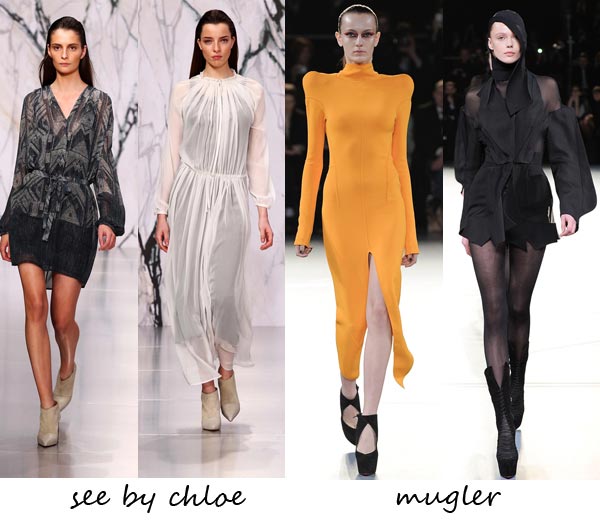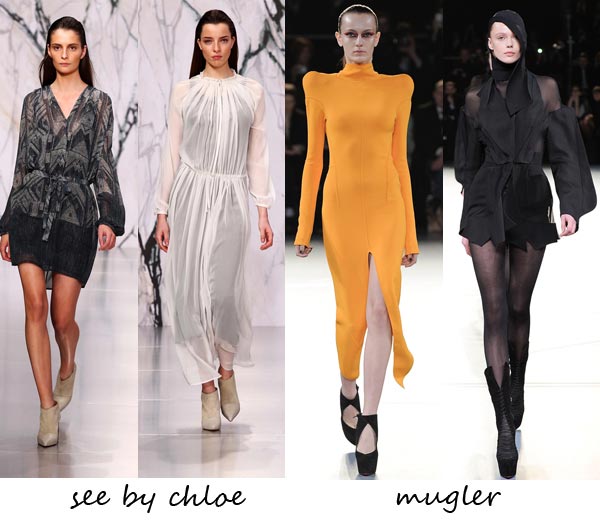 Another instantly Gaga-approved collection was Mugler, as her stylist and best pal Nicola Formichetti debuted yet another collection for the label. Another sharp, edgy and defined collection with a predominantly monochrome palette – the only splashes of colour came from a few of the more instantly wearable dresses and the red soles on the Christian Louboutin shoes. We loved Formichetti's take on the classic peplum too!
See by Chloe was a bit of a mixed one where you could find sheer and muted looks among the bold, bright and printed. Then again, it had to be a special show seeing as the brand debuted the collection online for the first time ever. Overall, it was modern, romantic, poetic and surprisingly understated. Hair and make-up was fuss-free and natural, which complemented the nature of the collection well.
What will the third day of Paris Fashion Week bring, we wonder?