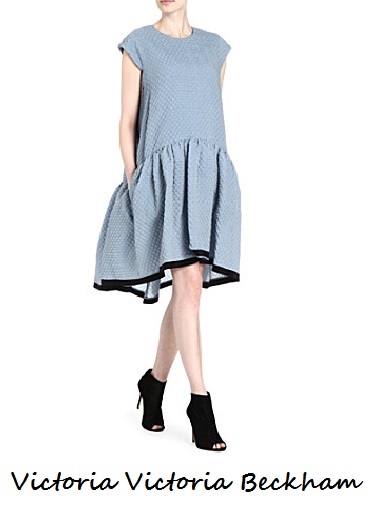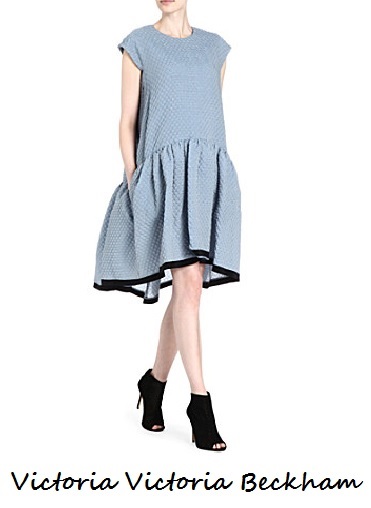 It's fabulous because…
Well, let's face it: Victoria Beckham is a bona fide fashion designer, and with every season creating a bigger hype than the one before it, she keeps getting stronger. Dubbed the "enormous cloud dress," VB was the first one to sport this Victoria Victoria Beckham drop-waist textured dress (£855), during New York Fashion Week back in September. Although a far cry from her form-fitting favourites, it won the fashion critics over, thanks to embracing this season's biggest trends: pastels and oversize silhouettes.
Why we're saying totally yay
Interesting silhouette: Who doesn't love a shake-up of traditional shapes? This drop-waist silhouette is a novel take on the prim, feminine form we associate with VB's designs. Yes, please.
Easy-to-style colour:  Crafted in the softest dusty blue, this dress will prove a dream when it comes to summer dressing – literally!
Zero accessories needed: Making such a statement in itself, if you're looking for an accessory-free party look, then this dress is a must. No embellishments needed.
And, erm, maybe nay
Possible trend-focused piece: Although VB has mastered drop-waists before; this dress is a very strong detour from her usually composed designs. Given its look-at-me-now credentials, there's a chance it could end up in the one-wear-then-despair pile.
Drop-waist fit not always flattering: We love the time-preserved drop-waist style (thanks, Carey Mulligan in The Great Gatsby!), but it's not suited to all body types. Although this dress boats the ability to covertly hide past indulgences, its 'cloud-like' outline could actually hamper the effects, making you appear bigger on the bottom half than you actually are!
Price: At £855 a pop, you'll be hard-pressed to cough up the rent when you land your mitts on this. Well, you could try explaining the VB effect to your landlord…
Victoria Victoria Beckham drop-waist textured dress, £855, available at Selfridges.