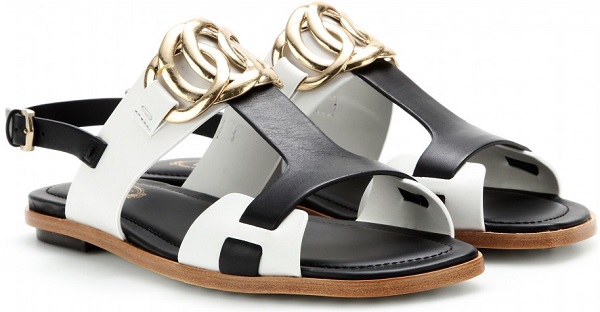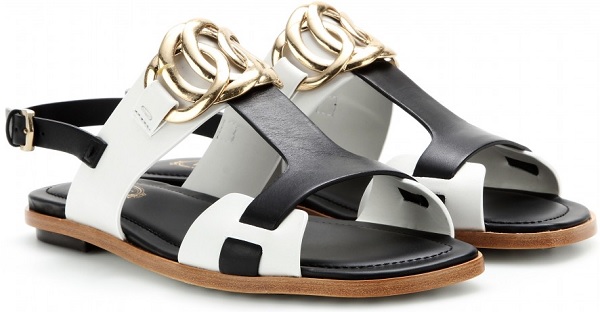 We totally need a pair because…
Well, sunnier days are a-knockin', and we can't think of a better (or more chicher) way of showing off that freshly done, Chanel spring/summer '14-inspired painterly pedicure, than slipping into these Tod's leather sandals, (£455).
Although the monochrome palette is the winning factor – charged, naturally, with a dose of Italian glamour – it's the comfortable style and wear-with-everything- appeal that's tempting us towards that 'Buy now' button. Damn you, pretty shoe!
It's a certified YAY for these reasons…
Flattering colours: There isn't much a monochromatic sandal won't go with, and the gold chain detail works to add that much needed 'Riviera' edge. You won't struggle to come up with ensembles worthy of pairing with these beauties!
Wear-with-anything-appeal: Whether it's the perfect summer dress, or a smartly tailored look for work; these sandals promise to land you brownie points in the shoe department.
But, maybe a NAY for these…
Price: Although they won't leave you limping with sore feet, your bank account will surely be at risk of falling in the red once you click these shoedrobe-completing specimens home. At £455 a pop, they're pretty but pricey.
Not weatherproof: Being Italian-made, expect nothing less than buttery-soft, tanned calf leather to adorn your feet. Now, we all know that plush leather and puddles don't mix too well; and given our track record for unpredictable weather, you'll be suffering from soggy sandal syndrome frequently. Are they worth the puddle-hopping hassle?
Tod's leather sandals, £455, available at My Theresa.