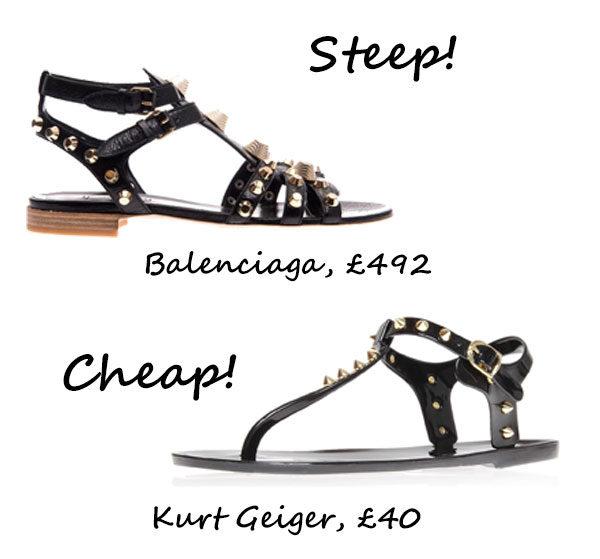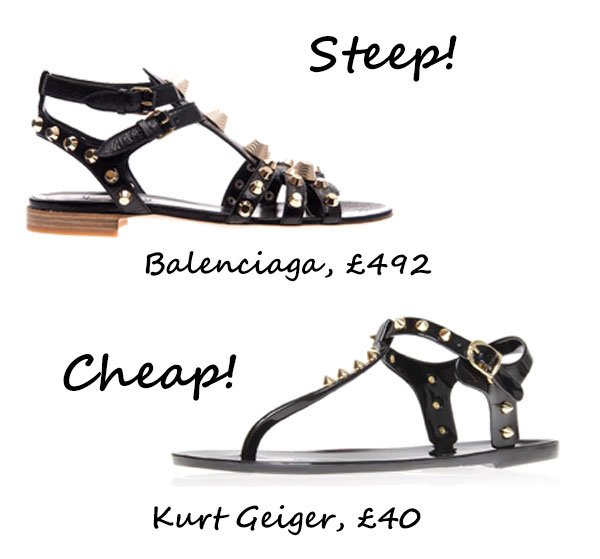 SUMMER'S HERE! Are we allowed to scream that just yet? OK, so the sun may be playing hide and seek, but that doesn't stop us from dreaming about showing off that colour pop pedicure we painstakingly sat through. Tempting us to ditch socks and boots in favour of foot-flashing sandals are this week's Steep vs. Cheap option.
A statement sandal is a great way to inject an off-duty look with warm weather vibes; and they're the perfect companion for any beach look, too. Add a smattering of studs, and you've got the perfect summer sandal to take you from now to the next boot-wearing season!
Cashing in at the steep end this week is the Balenciaga Arena sandal. At £492 a pop, the price tag may be painful, but these beauties are too easy on the eye to dismiss! The yellow gold-tone metal signature studs and low stacked wooden heel makes this sandal the ideal partner for a day strolling the city.
Tempted? Shop the steep option here: Balenciaga Arena stud gladiator sandal, £492, available at Matches Fashion.
Can't quite justify forking out nearly £500 to show-off your tootsies? Don't sweat it, because we've tracked down the perfect, pocket-friendly pair that won't leave you in the red. The Move sandal  by KG Kurt Geiger, £40, will easily dress up any look, thanks to the impressive spike stud detail. What will you wear them with? We're diggin' a billowing maxi and sun hat.
Shop this super-cheap option here:  KG Kurt Geiger Move sandal, £40, availbale at Kurt Geiger.