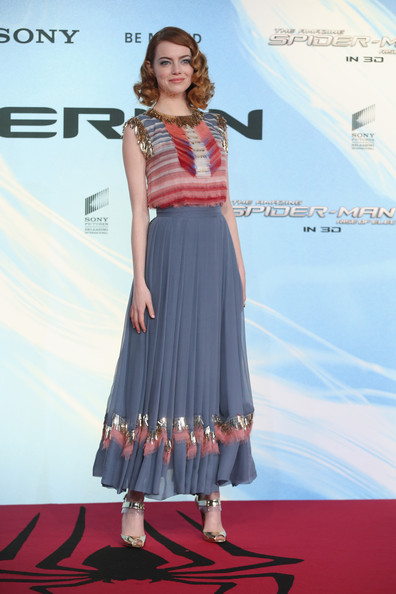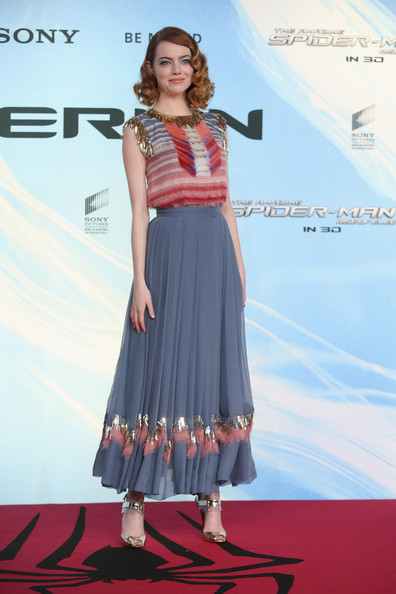 Seldom do A-listers set a sartorial foot wrong; but this week, Emma Stone has done just that! Attending the Berlin premiere of her latest film, The Amazing Spider-Man 2: Rise of Electro, the actress wore a Chanel creation from the pre-fall 2014 collection.
Featuring an embellished, ankle-grazing maxi skirt and tucked in multi-coloured top, it made for on-the-fence look. We're not to sure about the gold embroidery sitting again the three-way colour palette, and the exposed heels make the outfit appear awkwardly short, rather than purposefully so.
But, it's not just the outfit that isn't sitting right with us. The tightly curled do she debuted with this look doesn't suit the delicate outlook of the outfit; wispy chiffon calls for a softer hairstyle. Props for the make-up, though, and for going sans accessories, as too much would've completely written off this look!
Although she hasn't failed to impress, sartorially speaking, during the promotional tour of her film, this look is one that's let the side down. What do you make of this outfit?
[Image: Zimbio]