Last Updated on 25th May 2014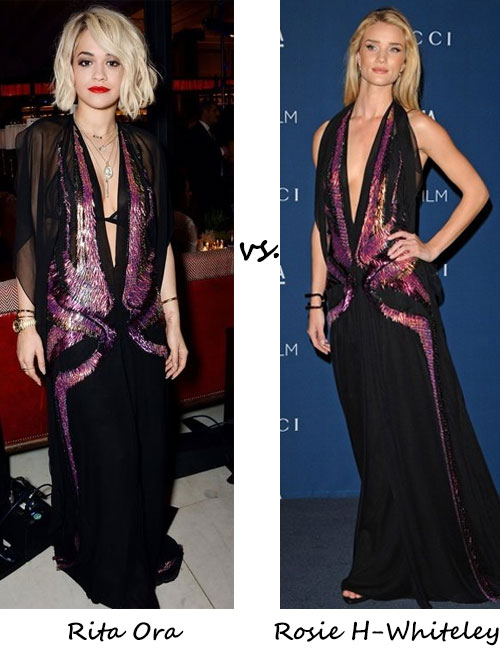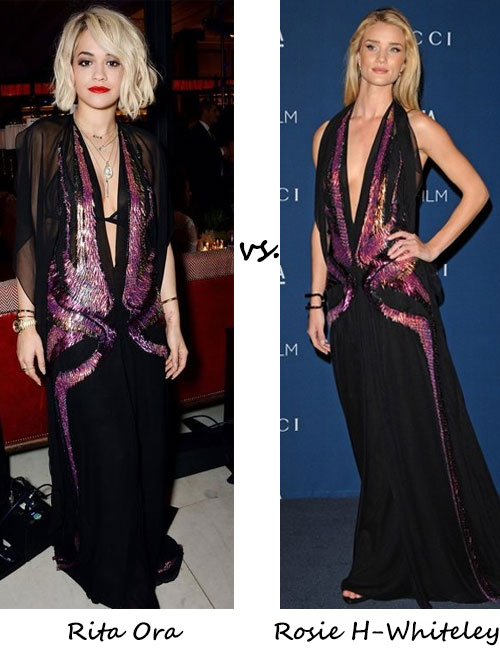 Carrying off a Gucci number takes some skill; not only do you have to peak at glamazon levels, but everything down to the last accessory and stray hair strand matters! Making us pick between them this week, in the same Gucci gown, are Rita Ora and Rosie Huntington-Whiteley.
Both ladies took to their respective red carpets in this stunning black spring 2014 halter gown, with baby pink embellishment. Gucci looks always deiver the dare-to-bare factor, and there was plenty of that around with this look!
First up to slip into the gown was Rosie, who wore it to the LACMA Art + Film Gala back in November 2013. Like a pro, the statuesque model let the gown do all the show-stopping, by keeping accessories and make-up pared down and hair swept away from her face.
Catching up with Ms. H-W was another Brit. Singer Rita Ora put her own spin on the glam gown, when she made an appearance in it at the Weinstein company's Post-BAFTA party back in February. Featuring her signature tousled bob and bright red lip, the 'I Will Never Let You Down' singer added her usual lashings of accessories.
So, who wins in this war of the gowns? We're giving this one to…wait for it…Rosie! This gown calls for a minimalist approach to styling, and Rita's extra accessories and loud lip are unnecessary add-ons. Rosie owns this one by a fair few style miles. Agree?