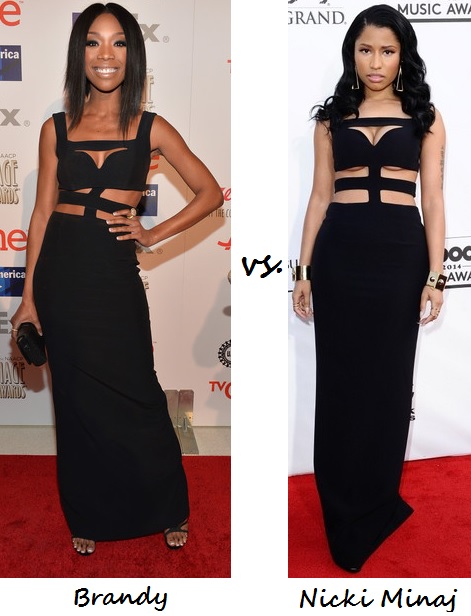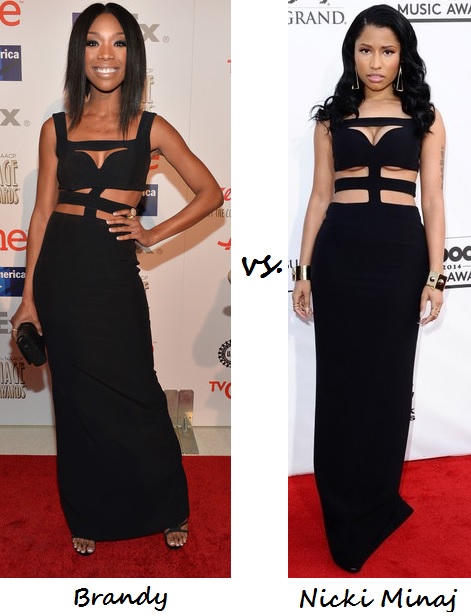 One dress, two girls. Yep, you know the drill. This week, at fashion loggerheads are singers Nicki Minaj and Brandy, who recently stepped out in an identical, black Alexander McQueen gown, from the spring 2014 collection. Featuring a cut-out design around the waist area, and a strap running across the top of the chest, the figure-skimming gown made for a demure evening look.
First up to take to the red carpet in the gown was Brandy, when she attended the 45th NAACP Awards Non-Televised Awards Ceremony back in February. Opting for sleek tresses and minimal accessories – save for a clutch and cocktail ring – Brandy rounded of her look with strong evening-glam eyes and strappy sandals.
But catching up with Brandy in the race for gown glory was rap queen Nicki Minaj, who wore the same look to the Billboard Awards earlier this month. Having recently debuted a more subdued side to her over-the-top Barbie persona, the singer gave us a very sultry red carpet look. Retro waves, two wrist cuffs and statement earrings provided the perfect finishing touches to Ms. Minaj's most un-Barbie look, whilst make-up was kept extremely subtle. The one standout 'feature,' we have to say, was the clever display of underboob that peeped out from under the cut-out detail. Well, it's Nicki…
So, whose look takes the trophy this week? We're giving this one to…Nicki! Everything, from the muted accessories to the expert flash of cleavage, works for this look. Surprising, we know, but Nicki's nailed this one without taking it into trashy territory. Brandy looks great, too, but the look just doesn't scream "WOW!" on her.
Agree with our style verdict? Whose look wins for you