Last Updated on 1st July 2014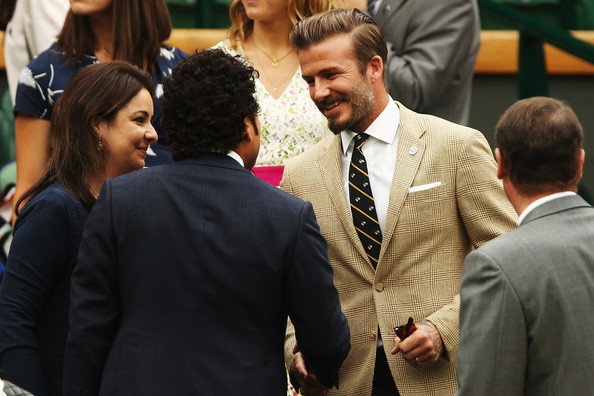 We thought we'd mix it up a bit this Tuesday morning and feature a man in our celebrity style section. Not just any old man of course – the one and only Mr David Beckham!
Victoria Beckham's delicious-looking husband was at Wimbledon over the weekend (thankfully he wasn't on screen for long otherwise we wouldn't have been able to concentrate on the score!) and watched the very exciting Mikhail Kukushkin vs Rafael Nadal match on centre court from the privacy of the Royal Box.
David looked extremely smart and handsome in his Polo Ralph Lauren Sport blazer, which he teamed with a Ralph Lauren Black Label white shirt, black trousers, and a matching tie that complemented the hues of the whole outfit perfectly.
We're not sure whether his Spice Girl turned fashion designer wife helped him put his outfit together or whether he managed it all on his own, but whoever it was deserves a huge pat on the back. Then again, we haven't seen many outfits that David Beckham hasn't looked good in, so we guess we are a bit biased. What do you think of Becks' look?