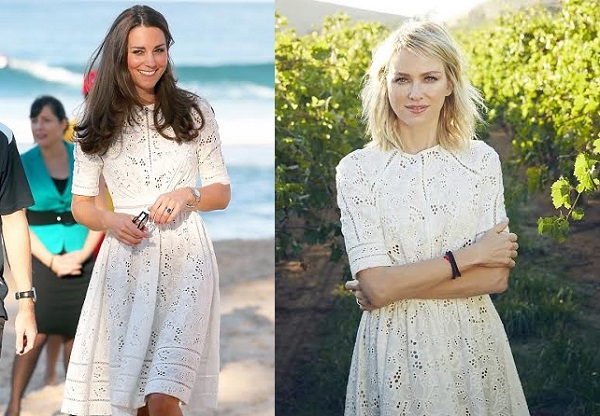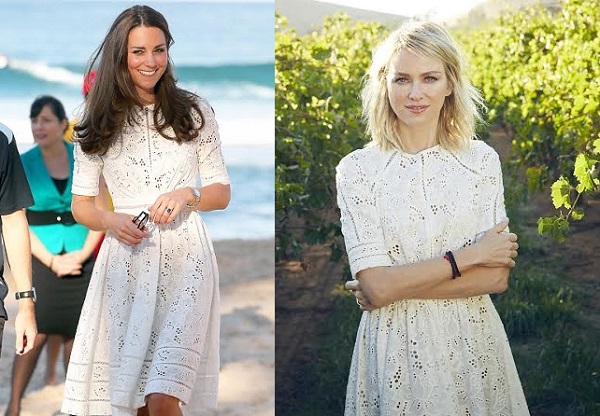 It's a regal competition today! TV and Film royalty, Naomi Watts faces off against… well, actually royalty in the form of Kate Middleton! Both ladies were seen stepping out in an LWD (little white dress) fit for a princess. With Naomi wearing the crochet dress during a commercial for Jacobs Creek, whilst Kate sported the dress not only during her tour Down Under earlier this year, but also at Wimbledon!
Naomi Watts looks absolutely breath-taking. The summery dress is the epitome of evenings in the sun with a glass of wine. From the vineyards behind her to her natural tousled hair to her simple thread bracelets, Naomi glows. Her natural make-up accentuates the easy-going nature of her dress, making her look impossibly pretty.
Kate wore the dress sometime later, and both styled their dresses very similarly. With both ladies opting for low-key accessories and make-up, it's a tough call! Ever since that wedding dress Kate has become something of a Goddess to us mere mortals. Boys fancy her, girls want to dress like her, and we personally want to be her. Rarely putting a fashion forward Louboutin out of place, Kate graces royal events like their her own personal catwalks.
Verdict:So who emerges our style queen?! It's a close one, but Naomi edges it. Kate's make-up seems heavier than Naomi's and her pearl drop earrings and watch add unnecessary fuss that Naomi avoids. It basically comes down to the fact that Naomi looks as if she woke up, splashed some water on her face, and wore an amazing Zimmermann dress…. And managed to look stunning. I think I hate her. In a totally irrational 'I want to be you' sort of way.