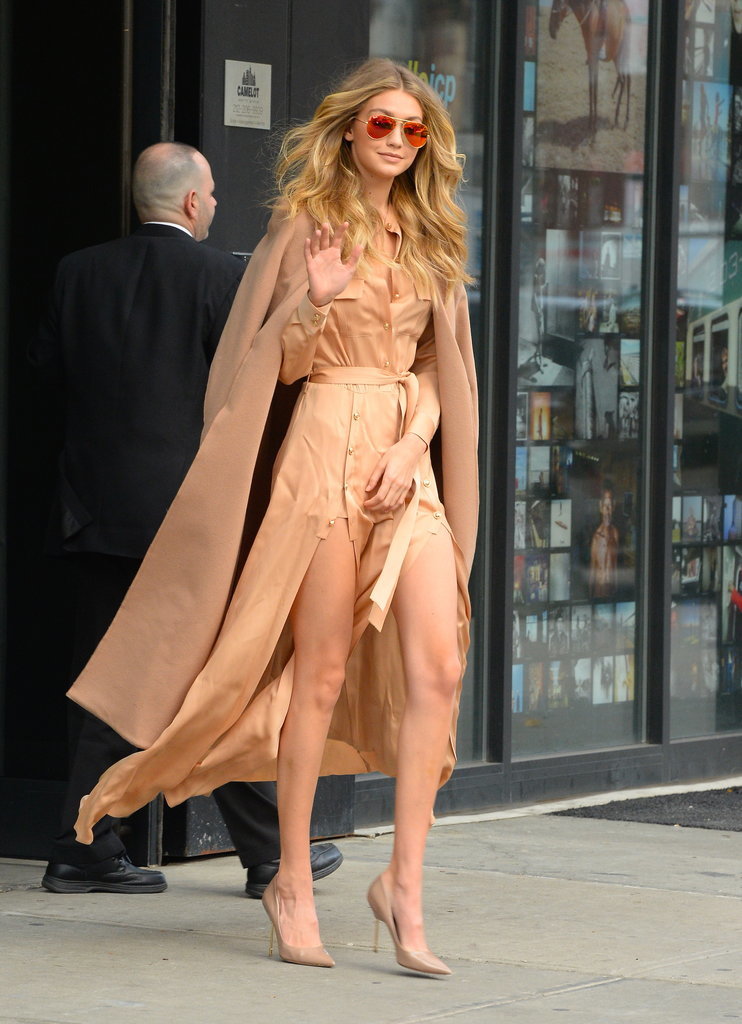 Many celebrities are well-known style gurus who can't help but launch new fashion trends. Because celebs frequently jet-set around the world, they're able to pick up on up-and-coming fashion trends in fashionable places like Milan, Paris, or even the streets of Harajuku in Japan. If you enjoy keeping up with the hottest styles, be sure to check out what some of your favourite celebrities are wearing.
 Superga
Italian shoes have long been revered for their high quality and effortless style, but the latest shoe craze to come out of Italy isn't high heels or leather loafers–it's Superga sneakers. European uber-fashionistas are sporting Superga sneakers and celebs like Jennifer Aniston and Katie Holmes.
 Over-the-Knee Boots
If you are sporting a mini dress or skirt, consider ramping up the wow factor of your outfit sleek and colorful over-the-knee boots. Celebrity Katharine McPhee recently wore a pair of wine-colored boots with her gray-knit mini dress and the result was jaw-dropping chic. Jennifer Lawrence was also seen departing a car in a pair of over-the-knee black boots.
Camel Color
Gigi Hadid is a major fashionista these days. She's been wearing camel, a rich and elegant shade that is perfect for autumn sweaters and wraps. The warm brown and spicy tones of camel clothing are a nice change of pace for ladies who find themselves gravitating toward neutral shades.
Off-the-Shoulder Dresses
Maybe it's easier for Angelina Jolie to look like a classic Grecian goddess when wearing an off-the-shoulder gown or dress, but there's something incredibly timeless about this fashion. One of the reasons that Angelina makes this style work is that she only bares that single shoulder; the rest, she leaves covered up to add to her mystery.
 Military Coats
Military-style jackets and coats have been in and out of the fashion pages over the decades, but they're definitely back in these days. Kate Hudson showed up recently at an awards ceremony sporting a long gun-metal blue military coat and Kirsten Dunst was photographed wearing a short navy blue military jacket with gold buttons. Olivia Palermo has also been photographed wearing a black leather military short jacket. The military garments added a smart sensibility to these ladies' get-ups.
  Animal Prints
Celebrities like Lauren Santo Domingo have been seen rocking over-the-top animal print outfits and dresses. Nothing says "I'm wild" like an animal print. While this style, which never really goes out of style for long, isn't for everyone, it can be incorporated into accessories like scarves and handbags if you don't feel like walking around in cheetah dress.
 Velvet
From velvet dresses to dress coats with velvet collars, the sumptuous material is in. Kate Hudson was spotted in a pair of wine-colored velvet flairs that took her hip factor straight up to ten. From velvet pencil skirts to velvet blouses, you'll want to add some velvet touches to your wardrobe during the cold season.
  Slip Dresses
If you thought the slip dress looked more at home in the bedroom, you may not have seen red carpet photos of stars like Sienna Miller and Rihanna sporting them in some gorgeous shades. In fact, Miller was photographed wearing a unique two-tone slip dress; one side was a nude shade while the other was black. Rihanna frequently wears slip dresses. She was recently photographed wearing a black slip dress and later an elegant copper-colored slip dress.
  A Pop of Red
Red is always a vibrant color that is sure to stand out. It definitely garners attention when Victoria Beckham sports bright red trousers with a tweed coat or when Miranda Kerr sports a full length solid red skirt. If you don't have red slacks or a skirt to sport just yet, consider adding a pop of red color in the form of an accessory like the red purse Gwyneth Paltrow carried with her gray and black ensemble.
 Lace-Up Sweaters
Just in time for the cold season, lace-up sweaters are a great way to add some pizzazz to a boring knit. Model Gigi Hadid has been seen wearing lace-up sweaters and they add a bit of edginess to an otherwise tame piece of clothing. Choose a lace-up sweater in black and you can dress it up with a pair of black slacks or down with your favorite pair of blue jeans.
  These are some of the latest trends that your favorite celebrity fashionistas are sporting these days. You're probably already seeing a few of these items on store floors, but you can expect to see more of them as the season wears on.
John Chambers is a personal shopper who dreams of one day making it as a fashion designer. He blogs about what the celebs are wearing, celeb gossip, fashion and shopping.