Last Updated on 7th June 2016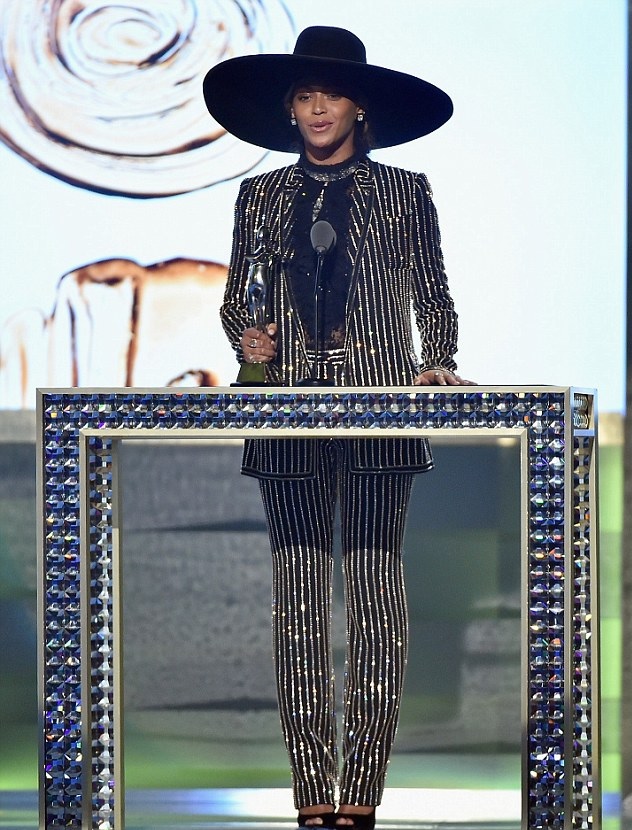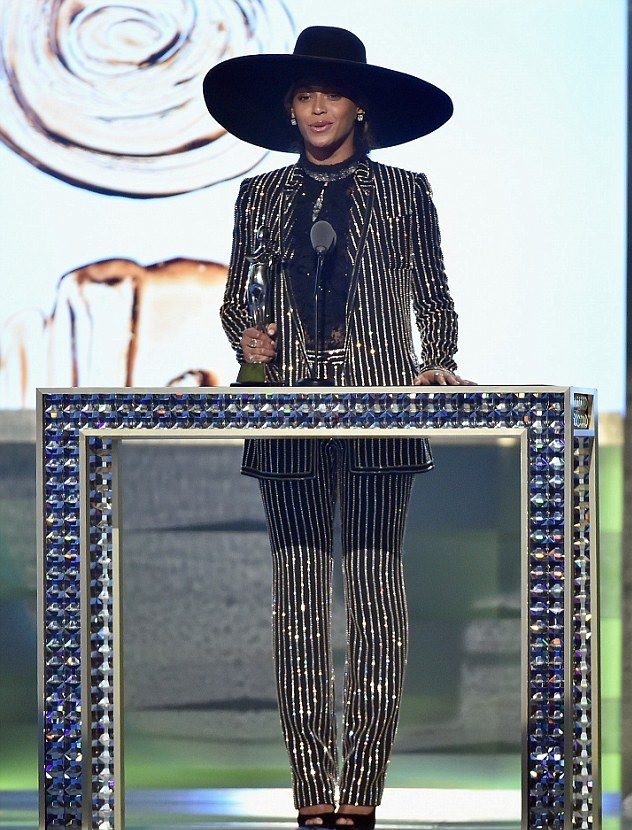 She's currently working on global domination with her Formation world tour but not even that could keep Beyoncé from taking time out to attend the CFDA awards which took place last night in New York, to accept the Fashion Icon Award.
It was all very, hush hush as to whom would have the honour of receiving the prestigious award but with 2016 being her year of major slay both in the music and style arena, there really was no competition.
Wearing a crystal embellished Givenchy tux and a wide-brimmed hat, Queen Bey took it waaaay back in her acceptance speech, reminding us of the days when Mama Tina would create their costumes. Remember those days? Even we were a tad nostalgic thinking back to those matching Destiny Child outfits, the clashing colours and ripped skirts as well as the blinged out dresses – all made by hand by Tina Knowles herself.
Speaking to the fashion industry's elite at the Hammerstein Ballroom she said,
"Starting out in Destiny's Child, high-end labels didn't really want to dress four black country curvy girls, and we couldn't afford designer dresses and couture. My mother was rejected from every showroom in New York. But like my grandmother, she used her talent and her creativity to give her children their dreams. My mother and my uncle, God rest his soul, made all of our first costumes, individually sewing hundreds of crystals and pearls, putting so much passion and love into every small detail. When I wore these clothes I felt like Khaleesi. I had an extra suit of armour. It was so much deeper than any brand name.
My mother is fabulous and beautiful and she's here tonight. My mother, my grandmother, and my uncle are always with me so I cannot fail. My mother actually designed my wedding dress, my prom dress, my first CFDA Award dress, my first Grammy dress, and the list goes on and on. And this to me is the true power and potential of fashion. It's a tool for finding your own identity. It transcends style, and it's a time capsule of all of our greatest milestones. So to my mother, my grandmother, my uncle, thank y'all. Thank you for showing me that having presence is about far more than the clothes you wear and your physical beauty. Thank you for showing me how to take risks, work hard, and live life on my own terms.
I want to say thank you to every designer who works tirelessly to make people think they can write their own story. Y'all are fairy godmothers, magicians, sculptors, and sometimes even our therapists. I encourage you to not forget this power you have or to take it lightly. We have the opportunity to contribute to a society where any girl can look at a billboard or magazine cover and see her own reflection. Soul has no colour, no shape, no form. Just like all of your work, it goes far beyond what the eye can see. You have the power to change perception, to inspire and empower, and to show people how to embrace their complications, and see the flaws, and the true beauty and strength that's inside all of us. Thank you so much for this incredible award, I'll never forget this night. God bless you all. Thank you."
Other winners included David Bowie who was honoured with the Tribute award, and Marc Jacobs who took home the Womenswear Designer of the Year…
See below for the full list of winners…
Fashion Icon Award: Beyoncé
Womenswear Designer of the Year: Marc Jacobs
Menswear Designer of the Year: Thom Browne
Accessories Designer of the Year: Mansur Gavriel: Rachel Mansur and Floriana Gavriel
Swarovski Award for Womenswear: Brandon Maxwell
Swarovski Award for Menswear: Orley: Alex Orley, Matthew Orley, Samantha Orley
Swarovski Award for Accessory Design: Paul Andrew
Geoffrey Beene Lifetime Achievement Award: Norma Kamali
The Media Award in Honor of Eugenia Sheppard: Imran Amed, editor in chief of The Business of Fashion
The Founder's Award in Honor of Eleanor Lambert: Donna Karan
International Award: Gucci: Alessandro Michele
Board of Directors' Tribute Award: David Bowie
[Images]