Last Updated on 5th September 2021
If you work in a more formal environment, you're probably ready to don the denim come Friday. Suits and ties are great and all, but they can be stiff, uncomfortable, and even boring, especially if you're the kind of office-goer who wants to show off your big personality and stand out in a crowd. Casual Friday is the perfect time to get in touch with your more relaxed side and break out more laid-back looks, whether those are plain crew neck tees and jeans or bold, colorful button-ups. These styles are perfect for nailing your Friday-in-the-office or Zoom casual look.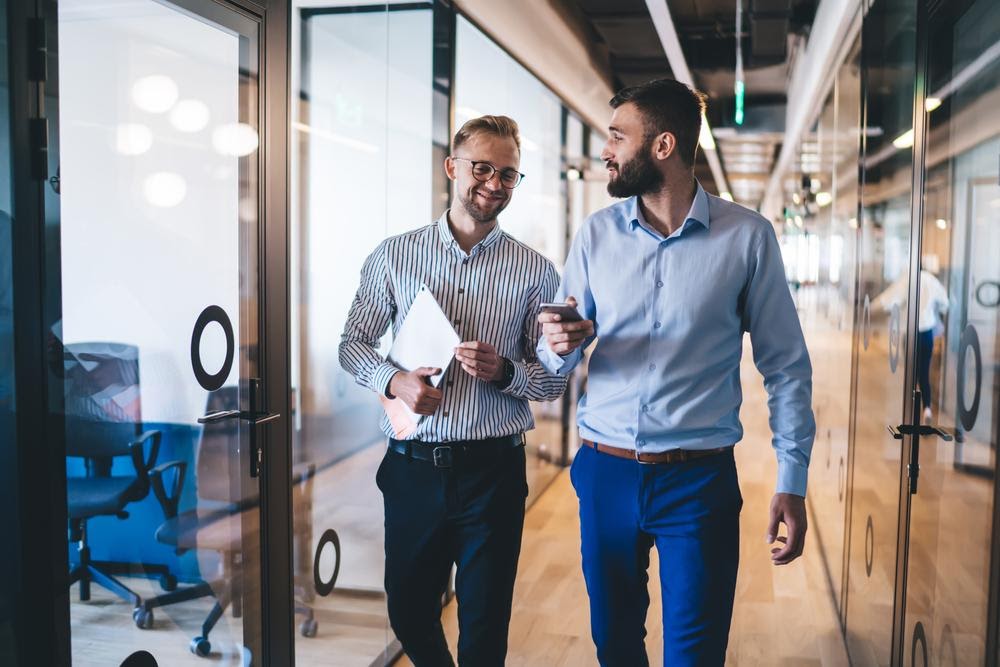 Here are a few great ways to take your casual Friday game to the next level.
1. Show Off Your T-Shirt Collection — There are tons of casual T-shirts for men out there that are fun and comfy but still appropriate for the workplace. Donning your favorite plain black or gray tee is totally appropriate in more relaxed environments, but you could also use this opportunity to get your favorite graphic tees and band tees some much-needed facetime.
2. Find Your Perfect Chino — Not every workplace is cool with denim on Fridays, and that's OK. If you're dressing down from suits to slacks, make sure to have a few different colors of chinos in the rotation. Chinos are some of the most versatile and comfortable options for the office, yet they aren't quite as dressed down as jeans. Experiment with different fits from your favorite brands, and then invest in a few colors of the one you like the most.
3. Rock Some Funky Socks — Want a subtle way to dress down this Friday? Complement your dress shoes with a pair of bold socks in a fun print or pattern. Argyle, stripes and plaid are apropos for rocking with your best suits, so why not take Friday as an opportunity to go a little wacky? Wear styles that celebrate things you love or that make you laugh, such as funny phrases or eye-catching graphics.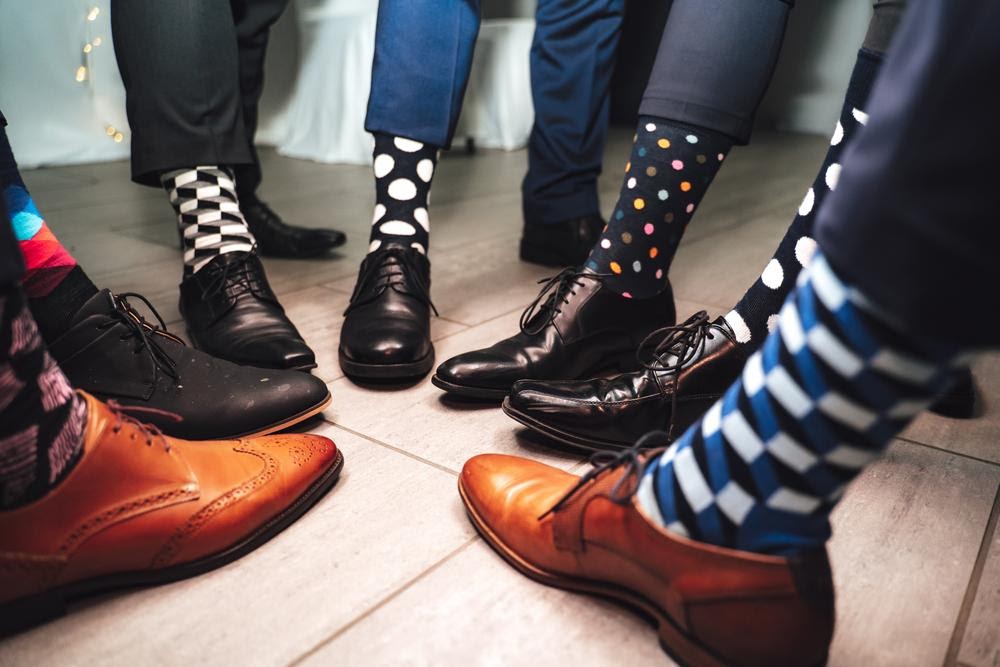 Don't Skip the Tailoring — Most of us spend our tailoring dollars on the stuff that really matters, such as suit jackets and dress pants. But a great fit makes the whole look, even when dressing down. Make sure your jeans and casual button-ups fit you like a glove by having your tailor size them to your figure. If you're on the taller end, make sure to rock tall tees that fit you perfectly.   
Invest in Short-Sleeved Button-Ups — Short-sleeved button-ups scream office casual, and we're here for it. They're the laid-back alternative to your standard weekday dress shirt, and they come in tons of fun patterns and prints that you can rock to showcase your vibrant sense of style. This shirt style is ideal for guys with a sense of humor or who love hipster style.
Remember, Polos Need Not Be Boring — The polo is the sporty version of the short-sleeved button-up, and it's an excellent option for chill Friday attire. But contrary to what you might think, polos are not limited to the golf course or tennis court. In reality, they come in a huge variety of cool styles, from high-tech cotton and cashmere for you luxe lovers to tie-dye and color block prints. For a less sporty look, err on the knit side and steer clear of technical sports fabrics that make you feel like you should be at the gym.
Swap the Blazer for a Cardigan — GQ said it best: "Cardigans are the new blazers," and we couldn't agree more, especially on casual Fridays during the fall and winter. Rock your best blazers with crisp crew necks beneath or go a little wild and pair them with bold graphic tees. Nothing looks better than a cozy cardi and a pair of dark wash jeans. Tie the look together with some preppy loafers or boat shoes for a professor-casual style.
Don't Sleep on the Blazer and Jeans — If you've still got important meetings or presentations on Friday, go casual but not too casual with the ultimate dressed-down style — a blazer with jeans. This look can be dressed up or down, depending on how you wear it. Style your blazer with a crisp black crewneck tee and sneakers for a more relaxed vibe or keep the button-down and dress shoes if you have to interface with clients or higher-ups.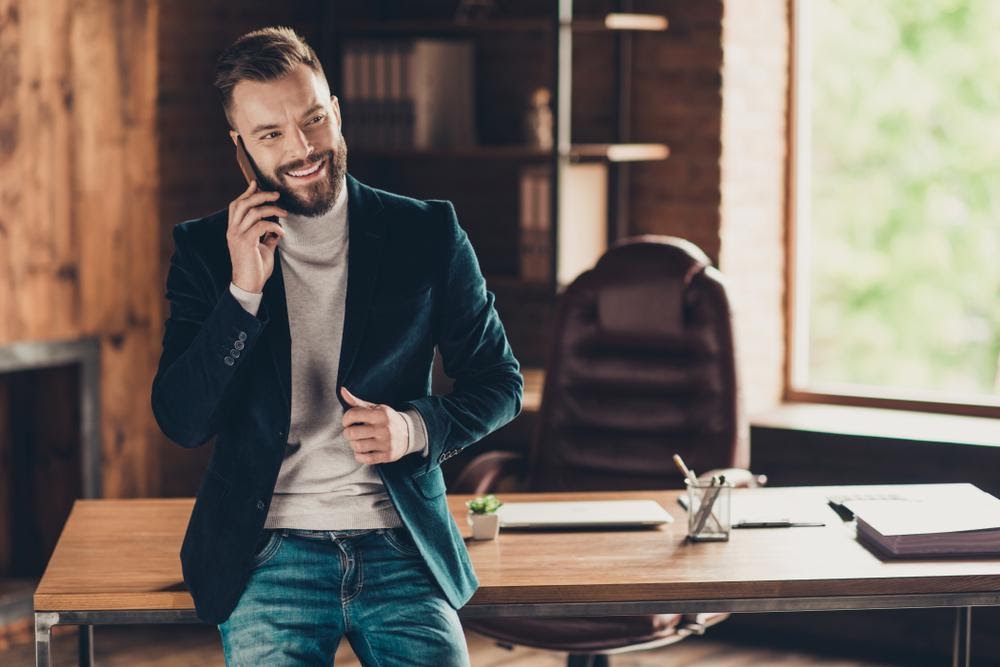 Get Into the Sneaker Game — If you're not a sneakerhead yet, upping your casual Friday game is an excellent excuse to get into the game. We love limited edition and statement sneakers because they can elevate pretty much any look — plain white tees and jeans never looked better than they do when paired with a pair of crisp new sneakers. You don't have to go crazy with the colors or silhouettes, either. A pair of classic Converse or Vans are great for adding a little laid-back edge to your style.
Invest in Accessories — When planning our outfits for the week, we tend to spend most of our time thinking about clothes and shoes. But the extra stuff can go a long way in helping you up your swag and show off your relaxed side. Keep the dress watches — we're talkin' anything with a leather strap — for accessorizing your suits. On casual Friday, break out the sportier styles like your G-Shock or Apple Watch. If you like to wear a smartwatch every day, switch to a more relaxed band, such as a silicone band, on Fridays.
The great thing about casual Friday is that it gives you a chance to break from the fussiness of your weekday wardrobe, which helps you get ready for the weekend and may even help you pay more attention to the work on your plate. Take advantage of casual Friday to show off your sense of style and personality with these awesome tips!