There's a lot of excitement involved in buying your first house, alongside some relief. As a first-time homeowner, you might wonder what happens next. Once you have the keys, it's simply a matter of turning the house into a home.
While a lot of this involves filling it with memories, you'll also need to think about furniture and decorations. You'll naturally have some of this from before buying the house, although it mightn't be enough to fill it up as much as you want.
The good thing about having this relatively blank slate is that you can start from scratch. What do you want your house to look like? There are countless options you can choose from, which could be overwhelming.
That makes interior design tips practically a necessity. Though you'll have your personal preferences, everyone needs something to start off with. Getting a few ideas could be all you need to start making your house a home.
There are a few that you'll likely want to take advantage of.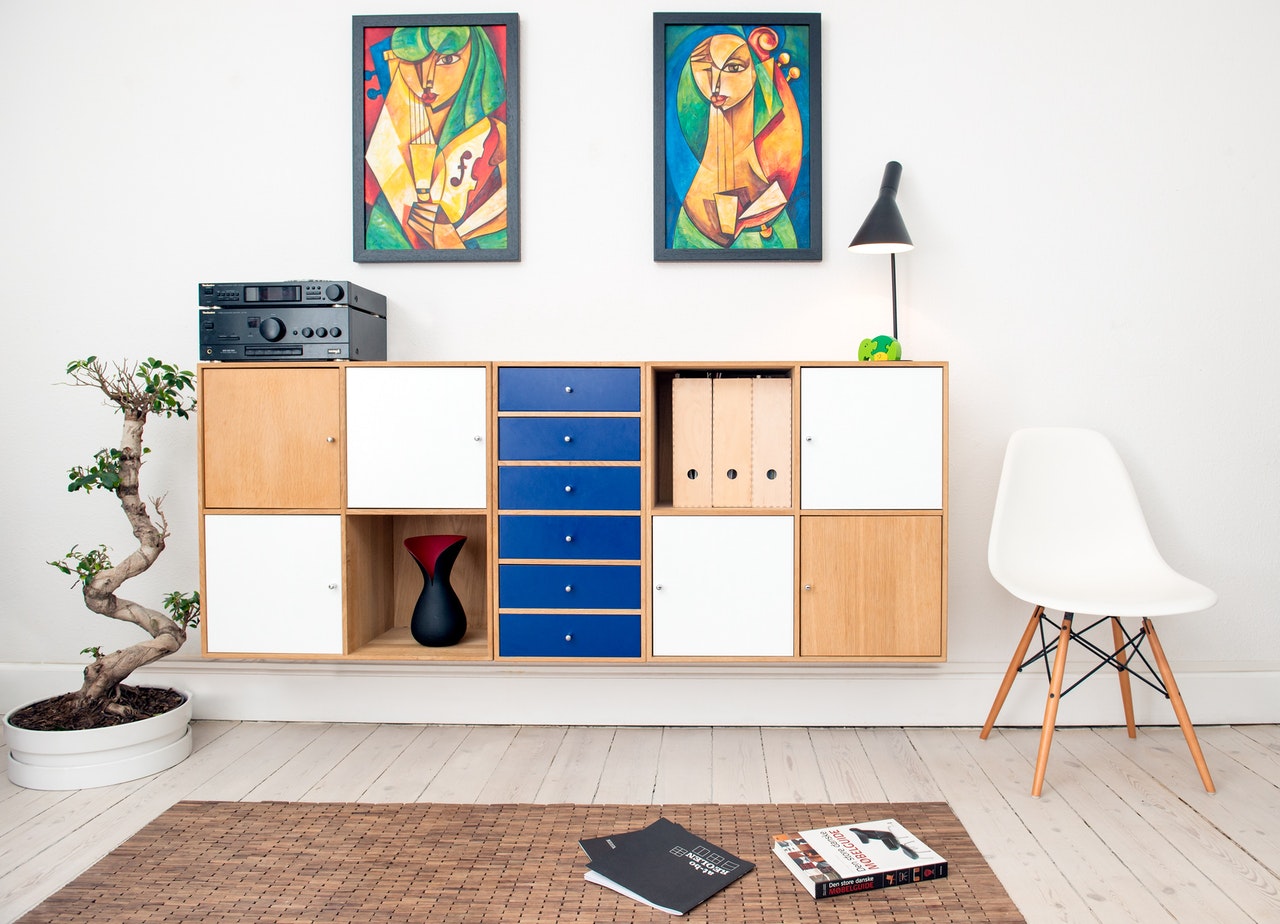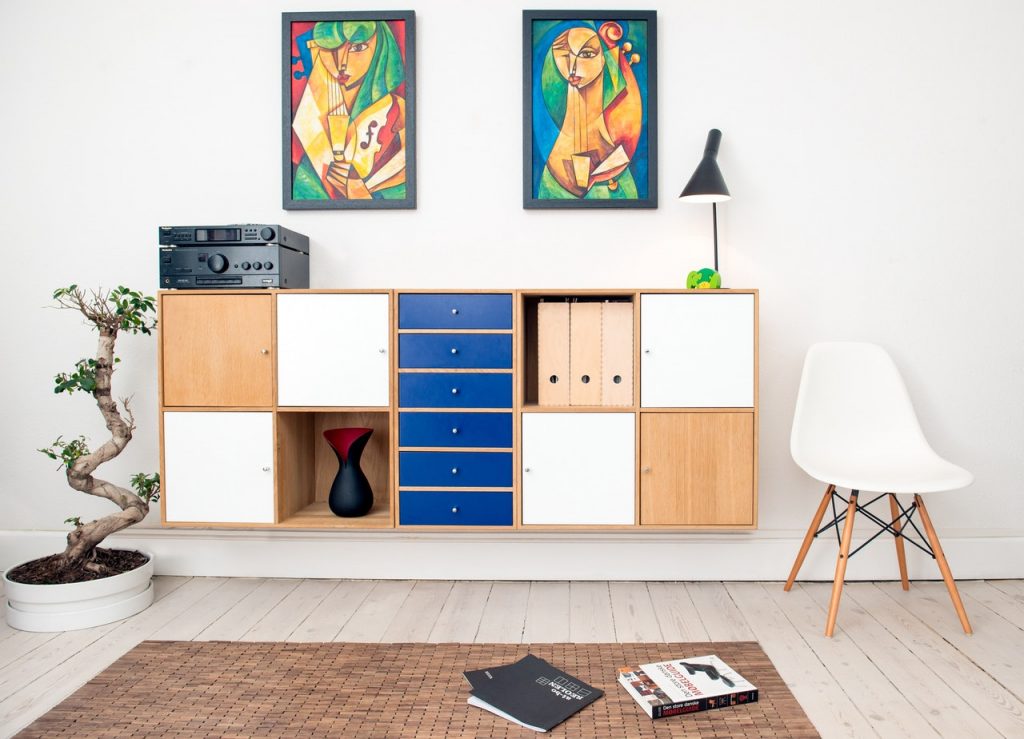 Interior Design Tips For Your New Home
Low-Space Shelving
A lot of your furniture will be quite large, such as the beds and sofas. These will need to be relatively big, however. One thing that doesn't need to be is your shelving. Shelves and shelving units have typically been relatively large and bulky. As a result, they've taken up more space than many people are comfortable with.
You shouldn't have to go this route, as there are multiple low-space shelving units to choose from. Pipe Shelves are becoming one of the more popular, especially if a room has a more rustic aesthetic. Fitting your choice in with a room's theme or style will be paramount for this.
There are multiple benefits to picking this option. The look they can add to a room is the most notable. Another is how much space you'll end up saving. That gives you more room to add a few other decorations or possibly some small furniture.
It also helps if you want a more open plan, modern look with your home.
Size Up Your Furniture
Most people assume that furniture always comes in roughly the same size. Beds typically come in the same standard increments, for instance. It could be worth going for a king- or queen-sized bed, depending on how big your bedroom is.
You can take this sizing up across the home. While you'll need to make sure that you have the space, bigger could be better. An oversized sofa can be much more visually appealing than a smaller one, alongside more comfortable.
Try mimicking this with a few other pieces of furniture. If you're going this road, you might want to consider an open floor plan to maximize the effect.
Be Bold With Your Paint
Giving your home a new coat of paint is one of the more obvious interior design tips you can choose. You should do more than a simple paint job, however. You should get a little bold with it. There used to be strict rules about what colors you should and shouldn't paint your walls.
Many of these have been thrown out the window, so you're free to experiment with it. Previously, you might have thought that your door frame, ceiling, and skirting boards white. That's no longer the case. Pick a color that compliments the rest of the room much more attractively.
Contrasting colors don't have to be limited to smaller objects versus bigger ones. Try painting three walls one color and the fourth another one entirely. Making sure these contrast and complement each other well will be more than worth the time it takes to paint.
Have A Signature Fragrance
Everyone's home has a certain smell. While this will often be a nice one, it isn't all the time. Nobody wants to have that home that smells bad, which is why you'll clean and use air freshener often. You could take things a step further, though.
Having a signature fragrance could be all you need to take things up a notch. This could be as simple as choosing a scent that not many people are familiar with. Alternatively, you could go with some of the more obvious choices, such as vanilla.
Air fresheners will be the most obvious way to spread this fragrance around your home. You should use scented candles and similar accessories to enhance the effect. Once you do, your home will be one that most people will love the smell of.
Embrace An Open Plan
Many people have heard the term 'open plan' before. It's typically used to refer to living rooms or kitchens, however. As a result, it's become one of the more popular interior design tips focused on both rooms. You could go one step farther by making your entire home open plan.
You'll take advantage of multiple benefits by doing so. A sleek, modern appearance will be the most notable of these. There's also the avoidance of clutter, which can make a home look dirty, regardless of how nice the decorations are.
If you have a smaller home, then an open floor plan could be more than recommended, as a room will appear larger than it is. The same can also be said for apartments. You could also save a significant amount of money; the fewer furnishings you have, the more money you save.
There is a careful balancing act to this, however. After all, too few belongings and furniture will make your home look empty.
Try Large Plants
Plants have been one of the more common exterior and interior design tips for quite some time. It's almost impossible to go wrong with them. You might want to avoid doing the same things with your plants that some of your friends or family are doing, however.
If that's the case, then you might want to consider larger plants. Most people go small and simple, but something a little oversized could be more complimentary to a room. This is especially effective inside and will work regardless of what the room's style is.
Large plants go much better with more open-plan homes, though. If you already have multiple decorations, then larger plants may make the room feel a little cluttered. Avoiding this, alongside strategically placing the plants, will have quite an impact.
With the multiple plants you can choose from – either real or fake – you shouldn't have a problem improving a room's appearance with them.
Turning Your House Into A Home With Interior Design Tips
There's a lot of stress involved in buying your first home; you'll have to apply for mortgages, compete against other buyers, and much more. Once you do, however, you should feel quite a lot of relief. It's common to get relatively anxious when it comes to your home decorating.
As great as a blank slate is, it can often feel a little overwhelming. Where do you start, and what should you start with? Getting the basics, such as your beds and sofas, will be the natural first step. After that, you can pick up bits and pieces as you go.
Since money might be a little tight after a while, this approach could be recommended. You could go room by room, which will help you get certain rooms done quickly. One of the more common interior design tips is to make sure you have a plan before you start.
If you do, you'll find that things will come together much better and much faster than they would have otherwise.