It's time to announce your engagement!
And what better way to showcase you, your fiancé and your fabulous new engagement ring than with a fun yet timeless engagement photo?
If you're looking for some traditional engagement photo looks that you'll have so much fun taking pictures of, then read on to get inspired by these eight classic engagement photo ideas.
1. Castle or Estate Backdrops
Few things are more literally classic or stately than a castle backdrop. Don't have any old castles near you? Try finding a sprawling public estate nearby to take photos in front of. An estate with well-manicured gardens does all the work for you. Sometimes, all you need is one grand tree like an oak or willow tree that makes just the statement you and your fiancé need. If you plan to take photos inside the castle, you can get inspired by the nature surrounding it by adding in oversized arrangements to help soften the picture. It can even be a vineyard or orchard, both of which photograph especially well during the crisp autumn months.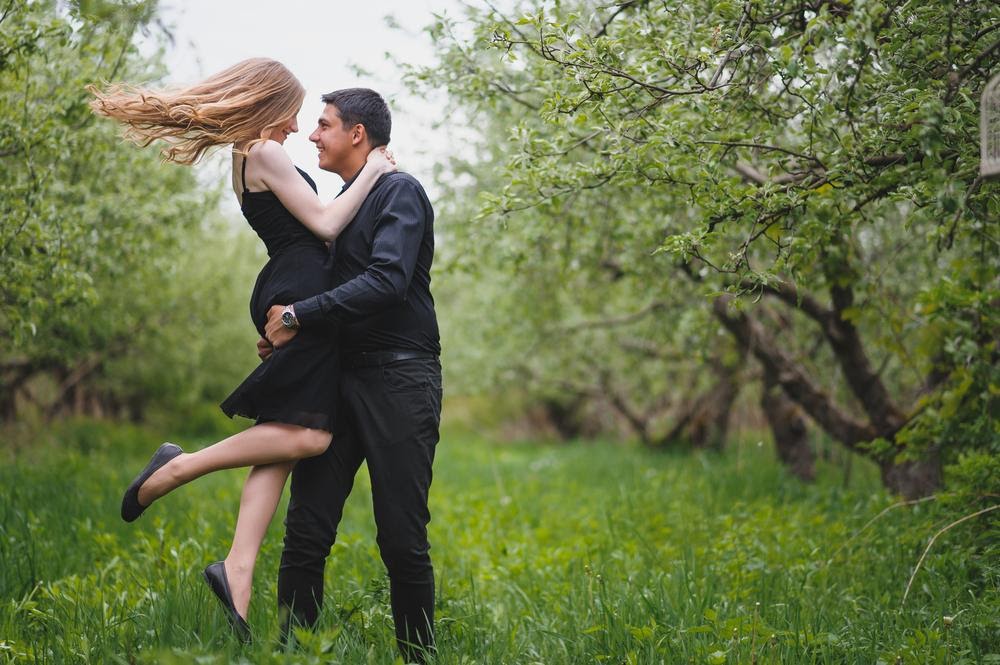 2. '80s Department Store Photos
For anyone who loves a bit of nostalgia, do an '80s themed department store photo. Just think of the Louisville couple whose photo went viral after they donned some vintage clothes at Goodwill and did a JCPenney portrait studio shoot. Think oversized sweaters, mom jeans, poofy hair and scrunchies. You can follow suit by grabbing some vintage clothes from your mom or the nearest consignment store and then head straight to your local photo studio to get your awkward poses on.
3. Retro Costumes
If you liked the idea of the '80s department store but want to go for a different decade, or even a different century altogether, go for a retro costume. The Belle Epoque era of the early 1900s called for oval ring settings and Edwardian designs with the Edwardian suit and Gibson Girl dress. If you prefer the Roaring 1920s, then opt for the Art Deco inspired emerald cut engagement rings with a flapper dress or Oxford trousers with a two-button suit jacket. Look back at the early aughts with ironic nostalgia by donning trucker hats and velour tracksuits. According to the Gemological Institute of America, the oval ring setting enjoyed a reemergence between 1998 and 2001, so if you're channeling the early aughts for your retro costume and your ring is an oval ring, you're good to go. Channel your inner Cher Horowitz by wearing a blazer and skirt plaid combo. You and your fiancé can look like you stepped straight off the set of Mad Men in babydoll dresses or tailored suits. Go for extra retro by going for a Victorian costume, or give it a little retrofuturist SciFi edge by going steampunk.
4. Get Artsy
Some engagement photos can be symbolic or seek to make a statement, like with literal handmade signs or the more symbolic train track. While train tracks can photograph beautifully and represent moving forward in life, it's still quite dangerous to photograph — even on empty tracks. Not to mention most railroads are technically private property. For a safer and trendy alternative, opt for a mural backdrop instead. You may not be near an outdoor mural, but there's sure to be a modern outdoor art piece somewhere nearby to take photos. Get artsy and have fun exploring local art for your engagement photo.
5. The Beach
The sand. The sea. What's not to love? You and your fiancé can recreate the moment of your proposal. Walk alongside each other as you stroll down the beach and the photographer captures that sweet saunter. Have them twirl you around as you're embracing each other and frolicking in the waves. Lie down on the sand and enjoy the water washing over you. If it's a dog-friendly beach, you can bring a four-legged friend to join in on the photoshoot. You can also give your pictures an extra touch of quality by enhancing the background or retouchig any details by editing them with a photo editor software such as Luminar AI.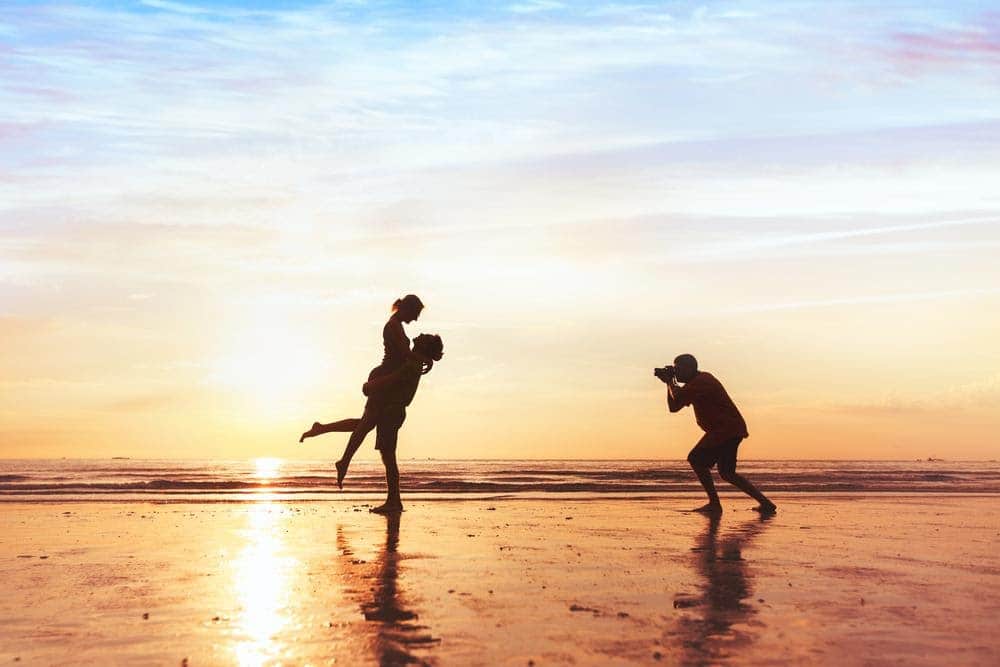 6. Evening Wear
Dress up and give your engagement photo some serious glam by donning fancy evening wear. Gentlemen can rent a tuxedo while ladies can rent a ball gown or dress — or browse a designer rental service like Rent the Runway for gorgeous evening wear options. You may still have your old prom suit or dress lying around, so why not give it a second life for your engagement photoshoot? With a little bit of humor, you can poke fun at any cringeworthy high school memories and give your photoshoot an irreverent yet fancy upgrade to the '80s department store photoshoot parody.
7. Old Car as a Prop
You can rent a classic old car and use it as a prop for your engagement photo. Go all out by wearing vintage costumes that match the old car. Grab a couple of old-school Coke bottles. Have a picnic by the car. Hop into the back of the trunk. Sit behind the wheel and flash your pearly whites and your shiny new engagement ring.
8. Wes Anderson Style
For instant Instagrammable quirk, you'll love a Wes Anderson-themed engagement photo. Just like you know a Wes Anderson film by looking at any still frame from his movie, cinema buffs will know they're looking at a Wes Anderson-inspired engagement photo when they look at yours. To make it happen, think dreamy and hyper-stylized backdrops, deliberate color palettes, and unique typography that you can add in with premade signs or after the photos are taken. The perfect trendy jewelry to wear to your Wes Anderson-style photoshoot would be bold gemstone pieces. If you want a minimalist statement with maximalist punch, then you'll love rose gold engagement rings, a beautiful color of gold with a hint of rosy copper.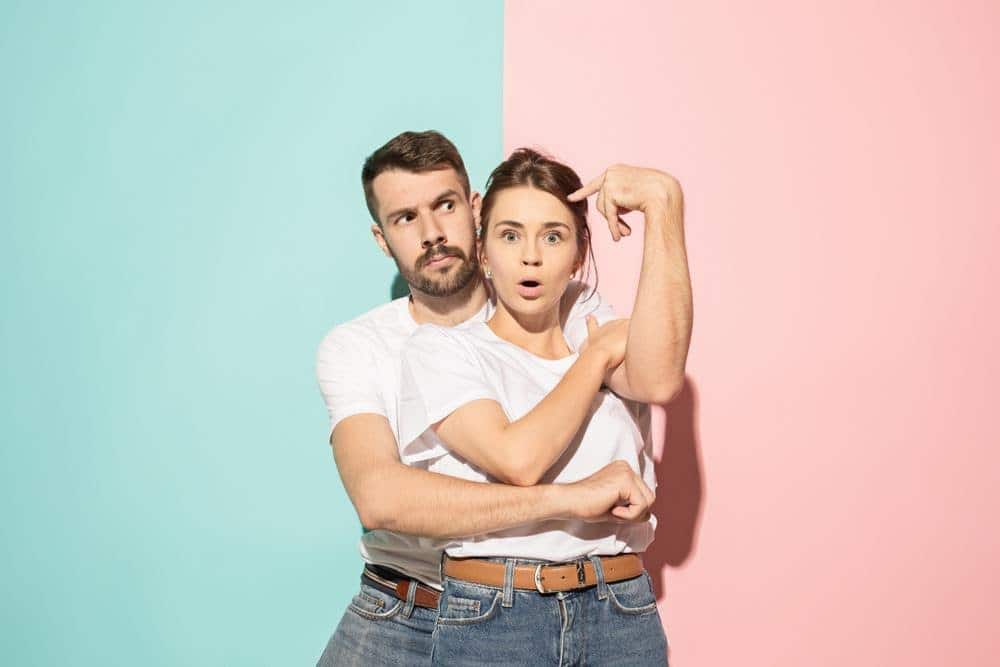 Still not sure which direction you want to take your engagement photo? When in doubt, have the photo taken in all black and white or sepia for that vintage appeal. The most important thing is that the photo represents you and your partner in a way that feels totally natural to both of you.