A great way to transition from winter to spring is with a blazer – it's an easy way to stay warm and look trendy all at the same time.
But how do you wear a blazer? What should you wear underneath it? And what about your shoes?
We've got all of your questions answered right here along with an edit of our best blazers for spring.
1. Choose the right blazer for you.
The first step in learning how to wear a blazer is picking out one that fits well and looks good on you. A blazer that's too long can make you look frumpy, while one that's too short might make you look like you borrowed it from your younger sister.
There are lots of women's spring blazers on offer and if you take the time to try on blazers of all shapes and sizes you won't regret it. The main goal is to get an idea of which styles look flattering on your body type. Once you have this knowledge, finding the right blazers moving forward will be a lot easier.
2. Pick out the right outfit for your blazer.
Once you have your blazer, it's time to think about what outfit to wear with it! It can be worn with just about anything from jeans to dresses – the only thing that matters is how it looks together as a whole. It's also important to think about how you want your blazer to fit into your outfit.
For a casual chic look, try pairing your blazer with denim shorts or jeans and a t-shirt. Add ballet flats to complete the look. Want a more dressy outfit? Team your blazer with a solid maxi skirt and simple flats or leather ankle boots for that elegant, yet laid-back vibe. And for a sporty vibe, layer your blazer over loungewear, your favourite athletic sneakers and you're good to go.
Hever Cotton Twill Blazer available at Boden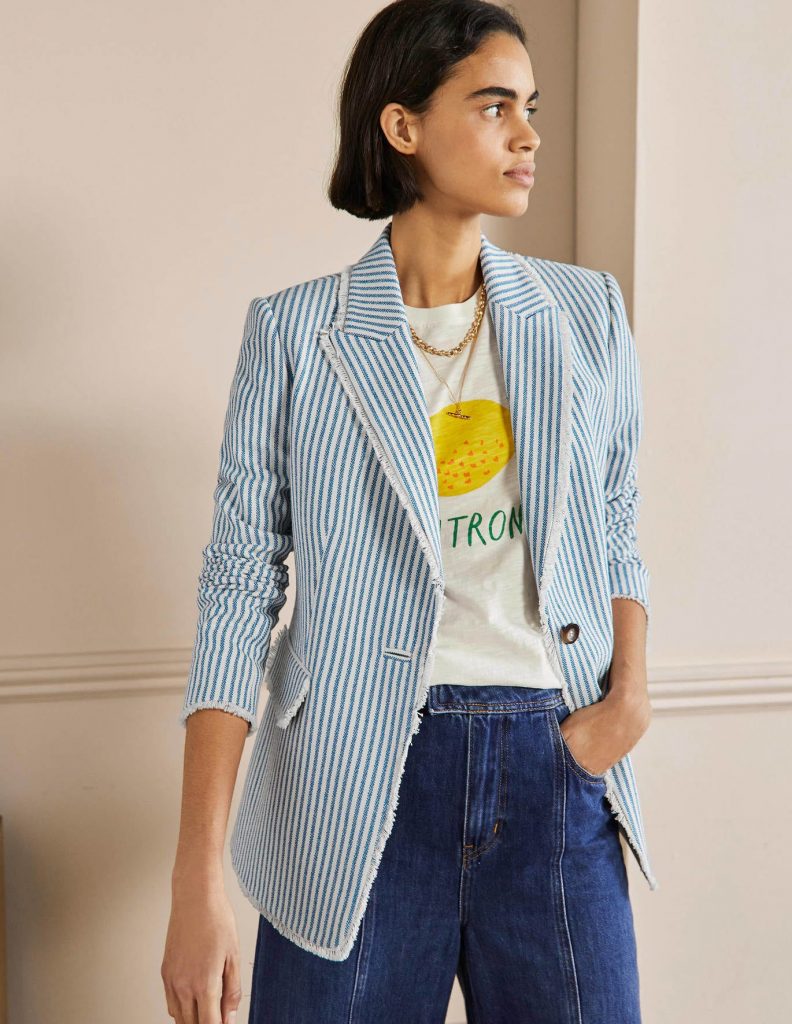 3. Don't forget your accessories!
After you've put together that killer outfit, don't forget accessories. You may have a great outfit, but if you have no accessories to go with it, it will look incomplete. And remember – every accessory you add to your outfit can change the overall tone of it.
So don't be afraid to add a pop of color or a bold statement piece! You might even want to consider adding one or two pieces that you wouldn't typically consider wearing together. This is where your imagination will come in handy – think outside the box and have fun with it!