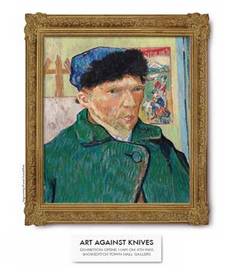 Art Against Knives – a charity dedicated to fighting knife crime – are hosting FASH OFF!, an event set up to celebrate the charity's official launch and raise awareness.
The charity , which was set up when a close friend of theirs was stabbed in an unprovoked attack , has collaborated with Stimul; magazine to invite the fashion and art worlds to join together in solidarity over the deep concern for ever increasing knife crime in London and the UK.
The high profile event comes after the huge success of the charity's Celebrity Art Exhibition and fund-raising auction earlier this year, which was supported by the likes of Vivienne Westwood, Christopher Kane, Marios Schwab, Richard Nicoll, Giles Deacon and Rankin, among others.
FASH OFF! also marks the involvement of CoutureLab with Art Against Knives , an exclusive, luxury destination frequented by the fashion elite. CoutureLab will host a series of bespoke art and garment auctions online on behalf of the charity.
Hosted by Andre J, the event will include DJ sets from Mr.C, Smokin Jo, Bones, Xochitil West, D.R.W and DJ Red, and live performances from Pandering and the Golddiggers.
FASH OFF! closes London Fashion Week on Wednesday 23rd September at The Queen of Hoxton. We can't wait , we love fashion and art events all the more when they're for a good cause, and it doesn't get much better than this.
This post appeared first on MyFashionLife.com