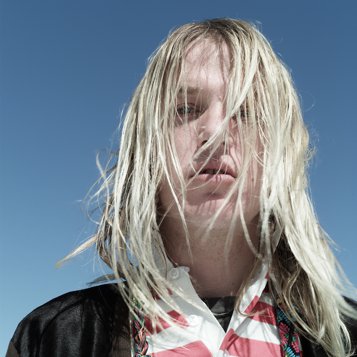 We needn't tell you of our love for Lancome's creative director Aaron de Mey and his no-holds-barred approach to high-impact makeup – we met him back in September last year and got a slice of his skills ourselves, no less – so if there's one boy we're happy to take beauty tips from, you can rest assured it's him.
And if you want to know what beauty buys to invest in for the new season and what shades to wear with your neutral wardrobe, Aaron's shared his autumn makeup tips to keep you looking cool.
"Colour, whether it is for eyes or lips—for instance, an eye cream or shadow in deep green or violet," he says, are the key products to invest in this season. "Blue looks striking when applied over a chocolate or black eye pencil and finished with black mascara. Or apply a deep, rich, saturated hue of red, crimson or burgundy to the lips—use a sheer or gloss formula for a more natural result. And don't forget the amazing shades offered in nail polishes, as they are an easy and inexpensive way to experiment with colour and trend."
And what will work with our camel-filled neutral wardrobe?
"Classic reds, deep brick and cherry or burgundy tones look great on lips paired with neutral, sculpted eyes in shades of grey, taupe, chocolate or black. Alternately rich jewel colours (amethyst, sapphire, ruby, emerald) look striking when used to sculpt and contour the eye area," Aaron tells NOWNESS. "For more natural makeup, use a deep burgundy or rose cream and blend into the apples of the cheeks for a flushed, wind-bitten effect. Touches of rich, electric colour brighten the face and make it look polished when paired with a neutral wardrobe.
He's just done the make-up for a new KT Auleta-directed short film too which, let us tell you, is nothing short of shimmering gorgeousness. And yes, that is such a thing. Make sure you check the film – and the rest of Aaron's tips – out at NOWNESS.com