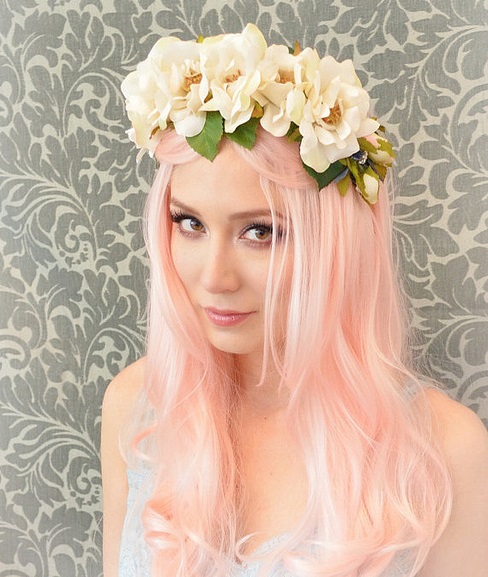 From the second her man gets down on one knee, a billion things can rush through a future brides brain – the size of the diamond on her finger will typically take priority right now… but the way she'll wear her hair on the big day is probably going to cross her mind in the months to come.
With the 2013 winter wedding season getting to in full swing, a bride's barnet could easily make or break her party mood. Never fear, we're going to guide you through some of the most popular, most modern, and some of the simplest styles you could be rocking on your big day.
The chic and sophisticated chignon has been pretty popular since almost the beginning of time. The swept back style can be traced back to the Ancient Greeks no less, and was also worn by men.
Not sure about letting hubby walk the aisle with his hair pinned down to the nape of his neck, but a lot can be said for metro-sexuality nowadays.
Either way, whichever member of the bridal party chooses a chignon will definitely be the classiest broad at the ball.
There's a lot to be said for plaits and braids at the moment. Not only are they great fun, but fishtail and herringbone styles represent the catwalks of recent seasons.
They make a great statement for any fashion-forward lady on her wedding day and provide interest whether they're the basis of a style or merely incorporated in to the overall look.
Try decorating your plaits with the flowers that feature in your bouquet and just wait for gasps of delight from the guests.
Talking of decorating, hair accessories are all the rage right now. Alice bands have been knocking around on bride's heads for a few years now, but how about hair bands made of the lace or silk that has been used on your dress too? Or ask your stylist to intertwine parts of your lace in to your style. Talk about complementing your outfit!
If your wedding has taken on a bit of a vintage theme, the most sensible thing to do would be to carry it through to your dress and 'do too.
Vintage waves and twists are a gorgeous way to incorporate this popular style through to your hair. And soften the often more structured dresses that were around in times gone by.
Everybody expects a bride to be working an up-do so wouldn't it be nice to surprise granny with a bit of boho chic? Soft, beachy waves or a distressed beehive can really make a statement and gives your overall look a more relaxed vibe.
For more tips and tricks, style advice and all manner of clips, grips and fashion-forward accessories, try Hershesons – those guys really know their braids from their sartorial blowdries…
This post appeared first on MyFashionLife.com