If you've been dying to get your hands on a Birkin, you must read Bringing Home the Birkin by Michael Tonello. It has to be one of my favourite books this year. We've heard all the stories about how hard it is to actually get a Birkin bag, you know – there is a two year waiting list, and even worse a waiting list for the waiting list (yeah right!). Well, Tonello dispels all the myths that surround this "un-obtainable" bag.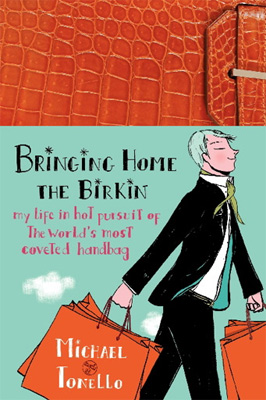 Bringing Home the Birkin is a memoir of Tonello's travels during his time as a reseller of the Birkin. After moving to Spain, on the promise of a job, Tonello finds himself in a desperate situation when the position falls through. After selling his precious Hermes scarf on eBay, he  discovers the sheer number of fanatics that will pay a small fortune to get their hands on anything "Hermes", especially the Birkin. And after a number of encounters Tonello discovers that the Birkin is where the money is at.
Getting his hands on one however, proves to be anything but easy. And in the beginning he hits a brick wall in the form of sales assistants….until he discovers the formula. And then the story becomes v.interesting.
I've tried not to reveal too much. What I will say however, is that after the first chapter I was hooked. Tonello's writing style, his description of the beautiful cities he visits and his brilliant sense of humour served for a very entertaining reading. In short, I loved it!