Last Updated on 2nd October 2008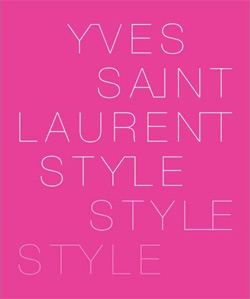 There is only one name that should come to mind every time you throw on your black power pantsuit- Yves Saint Laurent. Saint Laurent's fashion and socially forward way of thinking not only revolutionized fashion but also made a notable impact on the second wave of the women's movement. His belief was not that women should simply dress like their male counterparts, but that women should incorporate certain powerful features of male styles with a calculated mix of femininity. Saint Laurent saw this as the vehicle for propelling women into more powerful roles and ultimately enabling the gender to confidently strut into boardrooms across the world.
In memory of Saint Laurent's life and forty years of creativity (1962-2002), Hamish Bowles and Florence Müller have created – Yves Saint Laurent: Style – a book that details the progression of his influence in conjunction with social milestones. The quotes from Saint Laurent himself are the most memorable parts of the book, paired with actual sketches and pictorials of his designs; the readers are given a broad overview of the iconic designer's career.
Crafted by the Fondation Pierre Berge- Yves Saint Laurent, Yves Saint Laurent: Style accompanies a major exhibition that can be viewed in both Montreal and San Francisco in honor of his work and his life.
If you don't have a chance to get to Montreal or San Francisco during the exhibition, the book does an amazing job of capturing what is, was and always will be Yves Saint Laurent.