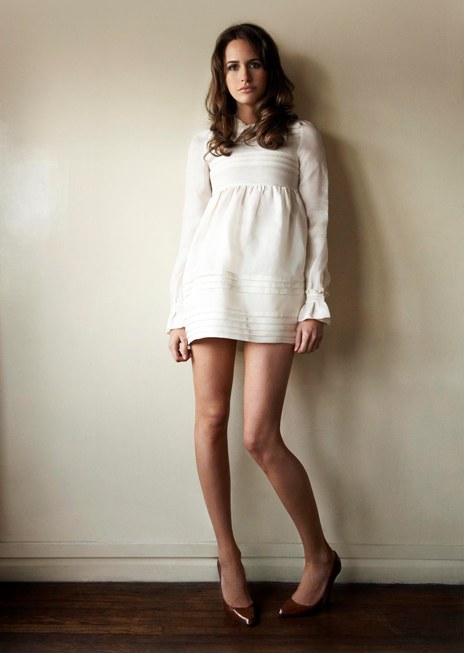 The one thing I love about fashion week is…the front row opposite – sometimes watching what the audience is wearing is more interesting than the show itself. I think the fashion in London is so eclectic and really creative – anything goes, especially during fashion week!
A normal day for me consists of filming a live segment very early in the morning and making sure I get strong coffee beforehand, then making notes for my column in the London Lite – remembering any funny moments or cool fashion spots – then usually whizzing home to change before a few meetings with pr's or producers in the afternoon. I'm working on TV formats for a channel in America right now, so at the moment I add to it every day. I try to relax or head out with friends in the evening but often end up glued to my laptop, catching up with emails until it's way too late to do either!
If I wasn't working in fashion I would be sleeping! I'm so tired at the moment from a big promo tour in the states for VogueTV (US). No, I've always loved interior design, I think I would be doing that or writing novels, that's another ambition.
My favourite restaurant is Crazy Homies on Westbourne Park Road. The best Mexican food in London and killer cocktails – it's such a low-key place and always turns into a fun, loud and giggly night.
I would describe my style as French. Or at least that's what I'd love it to look like! I love the thrown together-chic of Frenchies like Lou Doillon and Brigitte Bardot.
My most embarassing moment was a time early on in my career I chatted to Flavio Briatore, thinking he was (a very tall) Roberto Cavalli. I was telling him we had an interview booked in and he was telling me he was flying to Monaco the next day, so that was impossible. It wasn't until he put me on the phone to his PA that I clicked. Somehow I managed to squirm my way out of it without him realising!
This season I'll be investing in Gap's tartan mini-dress and Derek Lam's lace one.
My all time favourite designer is?…That's so difficult, there are so many I'm obsessed with. I love Marchesa and Alice Temperley for goddess gowns, PPQ and Miu Miu for fun party frocks, Todd Lynn for amazing trousers and new designer Mattijs van Bergen (at Browns) for edgy cuts. If I was really pushed though, it'd have to be Giambattista Valli: truly genius.
The best piece of advice I've been given is, "Never expect anything, and you'll never be disappointed." My grand-dad told me that when I was little and it stuck in my head.