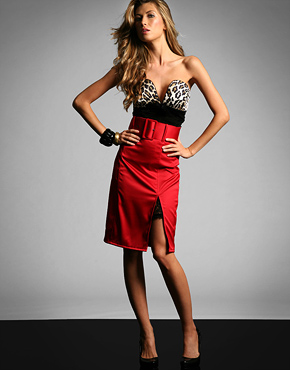 The burlesque-inspired look made popular by our fave style icon Dita Von Teese is super-sexy and feminine, in short a desirable trend for any girls out there who love a bit of glamour. Whilst Dita might make it look simple don't be fooled, this is not an easy look to pull off, simply donning red lipstick, fishnets, and lace will most likely leave you looking more like a fashion fatality than femme fatale. Help is at hand however in the shape of Australian label; Wheels and Dollbaby.
Their most recent collection 'la clementine' inspired by romantic French tailoring and the cinematic glamour of the 1950s (think Monroe in 'Gentlemen Prefer Blondes') is exemplary of the way the label creates designs which not only compliment the female shape but celebrate it. Plunging neck-lines, nipped in waists and hip-hugging skirts produce killer silhouettes that even Dita would be proud of. Sexy satins, lace and animal prints can be identified across the collection giving it a vampy edge.
The key is to keep it simple, the designs speak for themselves so there's no need for accessories and simple hair and makeup finish the look perfectly. The queen of burlesque, Dita herself has even given her approval becoming one of the faces of the label. Well in that case….