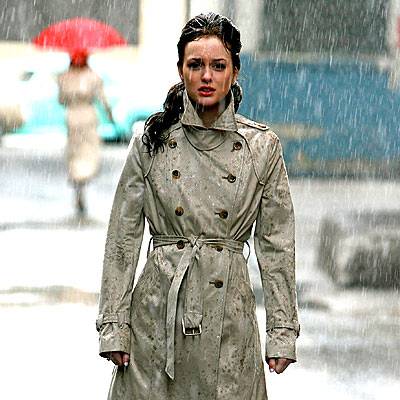 Until recently, I'd always associated mac's with flashers and grannies.  Why? I'm not entirely sure.  Stereotypes aside, I've never actually been flashed, and my grandmother is unusually stylish for her age. My preconceived mac-shaped notions were finally quashed on a trip last week to a local charity shop, where I found and fell in love with my very own mac. 
Intrigued by the mac's apparent ability to make every outfit seem more chic, I decided to give the tried and tested favourite a whirl.  And what a pleasant surprise I was in for!  Not only is it the perfect companion for these increasingly autumnal days, it goes with everything and has a chameleon like quality depending on how you wear it. 
Having chosen a classic style, I prefer to leave mine unbuttoned and fasten the coat with the belt in a tight, decisive knot.  The possibilities, however, are endless…
If you want to invest in a mac that will stand the test of time, your best bet may be a Burberry trench.  Whether you go for the traditional Burberry tartan lined raincoat (as seen top on Holly Golightly fan Blair Waldorf), or for one of their many modern Prorsum reincarnations (see the tiered trench above) – you can't go wrong.  If a new Burberry is a little (or in my case, a lot) out of your price range, you'll find second-hand at many of the larger vintage stores in London. 
For something cheap and cheerful, Topshop's powder pink trench is sweet and sassy.  While at H&M a tulip skirt and cropped sleeves bring the mac up to date for AW08.  If it's personality you require look no further than All Saint's wonderful 'Galia' Mac (above).  A clever take on the classic mac design, the Galia is a deconstructed version sure to become an instant sell-out when it reaches stores next week.