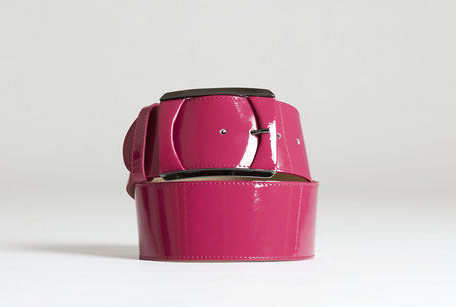 Thank God scientists have now found a cure for seasonal affective disorder. Ok, I'm exaggerating a little, but this season's hoard of magenta coloured accessories< is working wonders when it comes to cheering me up when it's grey and wet out there.
For example, I've found there really aren't many things more enjoyable than looking down at my new bright pink shoes on a rainy day and seeing sweety coloured nuggets of loveliness landing happily in each puddle. You'll also find it's the perfect colour to accessorize cold rosy cheeks with.
One shop that's doing magenta exceptionally well right now is, drum roll please, Reiss.
There's lipstick coloured stilettos and ballroom-style t-bars, patent lizard skin clutches and fierce bondage style pink heels in patent leather. But what has really got me hot under the colour is this beautiful belt at £69.00.
I suggest teaming it with a simple black outfit to really set off the colour. Just picture this little gem worn over a demure black wool coat. It just screams "yeah I'm sophisticated and professional when I need to be, but give me a cocktail or two and I'm filthy.
Anyway, here's the important bit. The catwalks at London Fashion Week were awash with magenta- Ossie Clark, Paul Costelloe and Caroline Charles to name but a few all used it- meaning your purchases will be bang on for next summer too. Apparently credit crunch boys and girls, that's what people who are good with money call an investment.