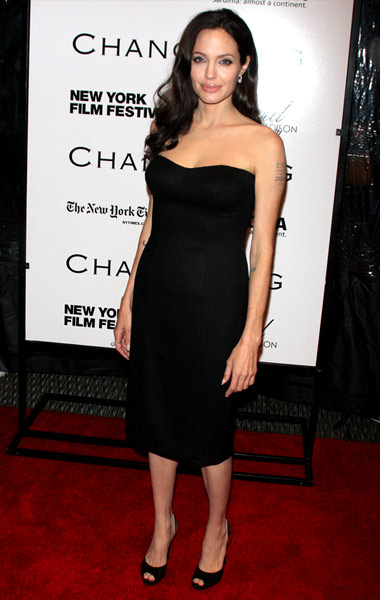 Ahh the little black dress; woman's best friend. I have at least three LBD's in my wardrobe that I've come to rely on and each serves a different purpose.
One is tight and fitted and can only be worn on days when I feel great, the other has lots of breathing space for those dreaded "fat days, and my favourite is equipped with the shortest hemline only to be worn when I'm in the mood to show some leg. All can be teamed up with statement shoes and a clutch and I'm good to go. Yep I do love the LBD!
Angelina hit the red carpet over the weekend at the New York Film Festival premiere of her new movie, 'The Changeling'in her LBD; a gorgeous strapless black Atelier Versace number that showed off her post ,baby figure.
Doesn't she look amazing? The look is simple yet striking….minimalism at its best!