Last Updated on 12th October 2008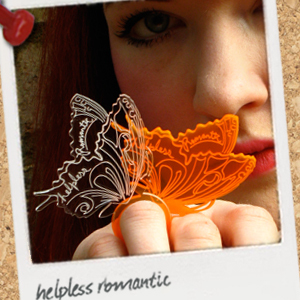 If you love the fun-filled accessories of Tatty Divine, but can't quite justify the price tag , in the words of my mother "ooh they are expensive for a bit of plastic aren't they , then you're going to be really happy that there is a cheaper, but no less stylish alternative. A friend recently told me about Helpless Romantic and now I'm hooked.
Where do I start? It's all so gorgeous. I mean, looking at the site is like trying to pick which present to open first on Christmas morning. There are beautiful teacup and saucer necklaces, earring sets featuring birds flying away from bird cages, a Halloween range with beautiful big crow necklaces (perfect for this season's goth look) and pixelated space men necklaces, all in various shades of lovely perspex.
The swallow brooches and Cinderella style kiss necklace are great for jazzing up and adding a bit of edge to the heavy prints of this season's folk look, gothic lace blouses or delicate dresses, so wear them with garments that risk being a little too twee.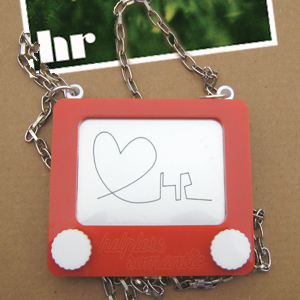 My favourite piece though has to be the Unshakeable Etch etch-a-sketch necklace. Draw a picture, email it to Helpless Romantic and they will etch it onto the necklace for you. All for the reasonable sum of £28.00. What a lovely present that would be, Santa, if you're listening. It is October you know, in the world of retail that's positively Christmas Eve.