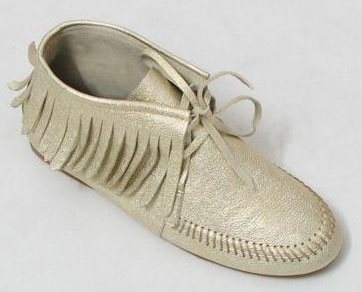 Metallic bags, clothes and make-up are definitely this season's new fix. As well as this shiny new trend, the 70's are relived with a fascination of fringe and the moccasin boots. True to London style, what do we do? We merge them together….
I give you, the metallic moccasins. Shelves in our favourite high-street stores are beginning to glisten and sparkle, and these metallic mocassins (Office's addition to the upcoming trend) are my personal favourite. The metallic beige is perfect for the more discreet fashionista.
But why not really shine by purchasing a pair of the bright gold or silver? A perfect alternative to the ever popular metallic converse. The flamboyant fringe boots come in both gold and silver, and are sure to be a must-have in the run up to the Christmas.
For those of you who are immediately thinking that you haven't got the legs of Agyness Deyn and so couldn't possibly bare your calves by wearing boots below the ankle – you are wrong. The metallic moccasins look best with skinny jeans and an oversized sweater. An ideal accessory to glam up those ever darker winter nights!