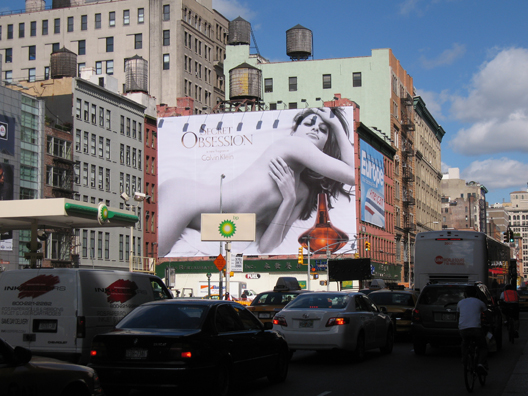 A couple months back, a great deal of fuss was made over Eva Mendes' racy TV ad for Calvin Klein's Secret Obsession fragrance. The ad went on to be banned (to our disbelief), but Calvin Klein has struck back with a full-fledged billboard that parades their beloved Eva in next nothing, as they've wanted for so long!
For the past few weeks, bystanders and drivers alike have been greeted on the corner of Houston and Lafayette Streets by Eva Mendes' sultry, siren−esque gaze in the Calvin Klein perfume ad.
The attention the TV ad drew was startling so it's only natural that public audiences would respond in such a manner once they got a whiff of Mendes' Secret Obsession draped across a billboard.
What's so out of the ordinary about all this is that the initial Secret Obsession billboard was of a tamer Mendes—her cleavage was aptly covered with a sheer bra. Fast-forward a week and this time round Mendes looks a lot more like the prohibited footage that never made it on our TV screens (i.e., she's naked people).
Echoing sentiments of the past, I've never come to understand why TV execs could not see eye to eye with Calvin Klein on the content of the TV ad. In any case, thank goodness there's an insert of the bottled fragrance because the secret is out and no longer safe!
[Source/Images]