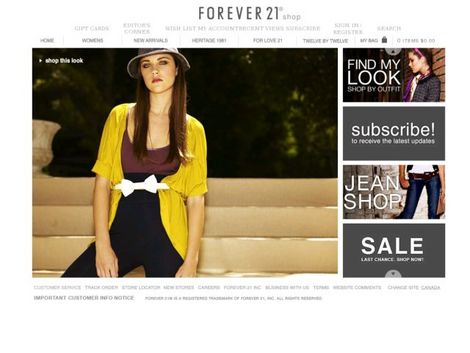 Any lady worth her Louboutins knows a trip to the U.S. is not complete without a visit to the crazily cheap fashion emporium Forever 21.
An American teen's dream, the shop is full to the brim with budget fashion. Known for its designer knock-offs, the chain has been sued by Gwen Stefani and Trovata for its near-perfect recreations. Forever 21 is not just for teens though, it's amazing range of tops, skirts, dresses, jackets and coats, loungewear, active wear, jewellery, bags, shoes, lingerie, home accessories and stationary ensure they've got everyone covered!
The prices have to be seen to be believed and now that their extensive online store offers shipping to the U.K. I recommend you do just that!  With a wish list function, it's easy to store your favourites till pay day and start planning the perfect Christmas outfit. 
Little sister site Heritage 1981 is full of fabulous vintage preppy style – think Gossip Girl meets Love Story.  While their upscale older sister site Twelve by Twelve is available only in L.A. and offers edgier production and Urban Outfitters-style wares at a fraction of the price. Just be sure to leave some for me!