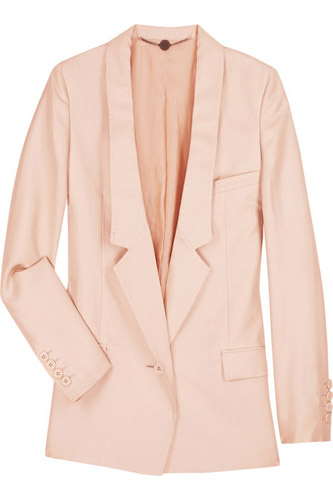 Finding the perfect cover up for cool spring days and breezy summer nights is often a sartorial challenge. But fear not: This season we can borrow from the boys with a mannish, boyfriend blazer , it's the season's relaxed new way to work this wardrobe staple.
Yes, the masculine, oversize boyfriend blazer has returned from the eighties. The Spring/Summer '09 runways were awash with this adaptable look. Yves Saint Laurent's was very sleek , big in the shoulder, narrow in the hips – paired over a miniskirt. Ralph Lauren grounded a floaty chiffon evening dress by topping it of with a boyfriend blazer while Hussein Chalayan paired his with nothing but boots.
While style icons such as Coco Chanel and Katherine Hepburn epitomized the stylish simplicity (yet femininity) of dressing like a man, today, stylish stars including Alexa Chung, Kate Moss and Kate Bosworth are giving their outfits menswear flair with oversized jackets.
The style is a blazer which is slightly too big for you with wide shoulders and a narrower waist, and is usually tailored with rolled up sleeves for the full hand-me-down look.
1. When it comes to mannish dressing it's usually best to go for pale pastels or neutrals to keep the look soft.
2. Keep it is classically tailored and go for oversized and long in order to emphasize a feminine shape in contrast to the broad musculature of the manly shoulders for which it was designed.
3. Just be sure your boyfriend doesn't raid your closet for these boxy blazers!
With women adopting the Stella McCartney-inspired, mannish jacket, the high-street is awash with interesting blazer remixes. Click here to shop a collection of the best designer and high street blazers.