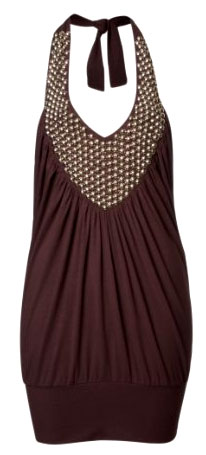 Giles Deacon's Gold by Giles for New Look, has failed to impress us. But after a slightly left-field and in many ways un-wearable debut the range started to find its feet last October.
Key party dresses from that collection, which featured oversized sequins and tassels, would in fact have been a good investment with both trends featuring heavily this season. But the fact remained that the strong pieces were few and far between, and up close the garments seemed to be not the best quality with scratchy fabrics and hard to wear cuts. Somehow, for a designer best known for his hard edged originality and sophistication, his signature styles were being lost in translation diluting it for the high street.
However the latest collection, which hit stores last week, is a very different story. The new crop reeks of Deacon's hard faced elegance. It's stylish, fashion forward and best of all for those of us with a healthy appetite for chocolate cakes and Christmas buffets, the cuts are immensely flattering.
Key pieces including platform shoes, ankle boots, kimono tops, foil skirts and dresses, tulip skirts and casual lace jackets and t-shirts are all embellished to a smattering of satin, sequins and studs.
Indeed it is the studs and the batwing tops that really define this collection. The heavily studded hem line of this black skirt is somewhere between roman gladiator and punk. And as for batwings, well they're going to be huge next season so invest, invest, invest and don't worry too much if the credit crunch has meant you've cancelled that gym membership. Those upper arms aren't going to be seeing the light of day for a while!
Click here to shop the collection