Last Updated on 19th October 2013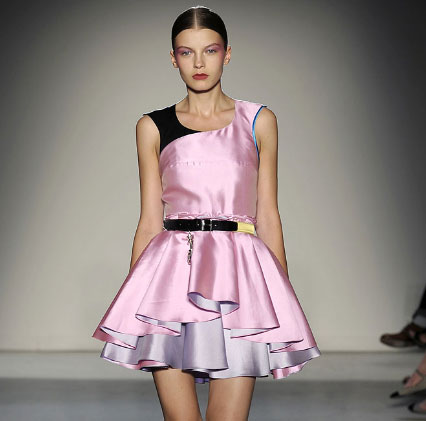 Jonathan Saunders is like a fine wine. Yep, that tired old cliche is inescapably apt here. His collections do just keep getting stronger and more striking with age. The riot of colour in his collection for spring/summer 09 Week was mesmerising.
Saunders trained as a print designer at the Glasgow School of Art and later at Central Saint Martins, graduating in 2002. Since then he has shown both at London Fashion Week and of course more recently in New York. Famed for his bold, complex and colourful prints, he predominantly uses traditional screen printing to create his collections.
But it is his skill for engineering strong and interesting silhouettes that is getting him noticed on both sides of the pond right now. These two pieces, available now from Net-A-Porter, show why.
We can't get enough of this asymmetric Odessa dress.
and brick block print number, the Roley
The beauty of the Odessa is that it look like a risky shape to pull off, but is actually immensely flattering. The cut of the dress and darts of the pattern lead the eye down towards the bust, slimming the shoulders and accentuating the waist. The structure of the nipped in waist and pleated skirt are formal but playful and that's why I love it.
Although again, at the more restrained and conservative end of Saunder's designs, the splash of wild sweety colours on the Missoni-esque Roley dress contrasts perfectly with its fussy ruffled skirt and the grown-up simplicity of the top.
Now, if I justified the £795 price tag by calculating cost per wear I think I can just about afford it!