Last Updated on 21st November 2008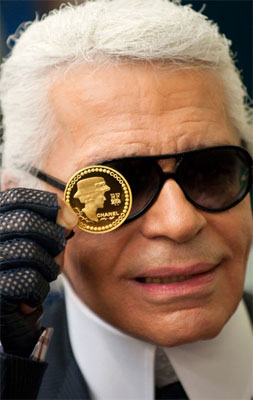 There's not much that a certain Mr Lagerfeld won't put his name to. After the bizarre release of the Karl Lagerfeld teddy bear, it has perhaps come as little surprise that he has taken to designing some limited edition Chanel coins. Well, in all fairness, he must know quite a bit about money.
The coins have been produced as a celebration of the 125th birthday of Gabrielle 'Coco' Chanel and show her portrait on one side of the coin, while the number 5 will be displayed on the other.
Four coins have been minted (two silver and two gold) and each are a denomination of five euros as a nod to the popular Chanel No. 5 scent. The five theme however, doesn't stop there, as the five ounce gold coins are selling for 5,900 euros: that's a pretty impressive mark up.
In today's financial crisis, it seems Lagerfeld certainly has his business head screwed on tight.
Lagerfeld's collection of 11,099 coins will go on sale on 1 December.