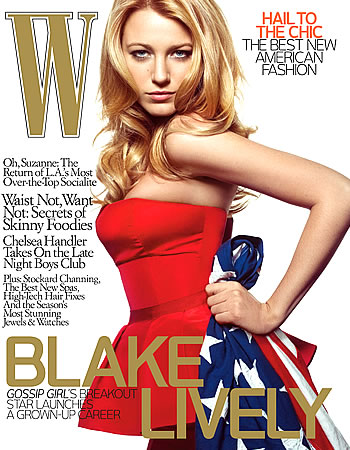 Clad in red with the star-spangled banner as her sole accessory, Blake Lively is the ultimate American Girl on this month's W cover.
A devout follower of Lively's show Gossip Girl, I have long harboured a secret preference for her character Serena despite the general consensus that it's cooler to favour frenemie Blair. 
Perhaps it's her ridiculously fit physique – all curves and limbs, she's the picture of youth and health in one tall package.  Or maybe it's her lustrous long blonde waves, California tan, and mega-watt smile. It's none of the above actually, nor is it Miss. Van der Woodsen's sparkly boho-babe wardrobe that has me campaigning from camp Serena. 
The main attraction of Lively and her on-screen alter ego is, in fact, that she appears an infectiously spirited and delightful person. I am pleased to add that her W interview only confirms this; painting her as an incredibly talented, genuine, thoughtful, personable and likeable force. Thank god for that!