Last Updated on 23rd July 2009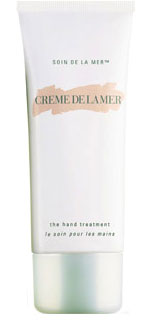 This particular Crème De La Mer experience is described as the most luxuriously indulgent hand treatment around. Specially tailored to strengthen and fortify nails, leaving them with long-lasting, healthy shine. I wasn't disappointed.
After it took me a while to find the Urban Retreat Spa tucked away in a wing of the 5th floor in the luxury shopping mecca that is Harrods, I was impressed with what seemed like the pampering version of the Secret Garden. Polite staff took my name at the check in desk (yes – check in desk) and directed me to the cloakroom…I am definitely a fan of this efficiency.
My therapist Maria greeted me and whisked me into the Cr̬me De La Mer suite where I was instantly plunged into relaxation mode, with the sound of waves (renowned to relax the human senses) lapping on the shore playing in the background. Once in the treatment room nail preference was discussed Рlength and shape, and nails were filled and buffed.
The Cr̬me de la Mer facial refining exfoliator was applied and massaged into the hands and part lower arms and the decadent creamy texture was then cleansed off with hot toweling mitts. This was leisurely preceded by the application of a CDLM thermal mask Рa super moisturising, dense mask with a hint of refreshing peppermint fragrance. This was then left to infuse the skin as my hand was wrapped in a hot towel to reap the thermal benefits while Maria worked on my other hand.
When this was done, the mask was cleansed off, and a buffing paste was applied to the nails to make them super shiny. The gorgeous CDLM hand cream was applied generously and massaged into hands for a super relaxation technique.
To finish the treatment off, a CDLM oil was massaged into nails and cuticles, and left to absorb. By this time I was so relaxed and relieved of all stress. I was left to collect my thoughts i.e. get a grip back on reality, and resumed to float back to the beach – sorry office, and as a result envisaged an un-productive afternoon. £60, 1hr, Crème De La Mer Hand Treatment available at Urban Retreat at Harrods.