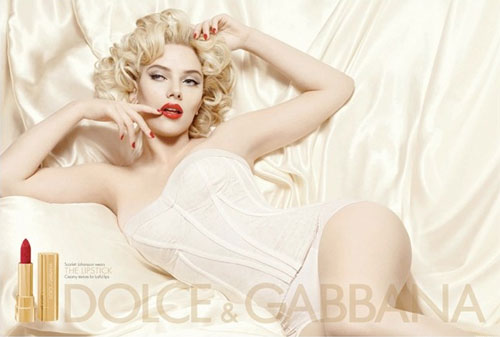 The latest D&G campaign pays homage to the siren Marilyn Monroe and Scarlett Johansson's resemblance to the most glamorous of movie stars is amazing.
Scarlett has been brought on board for the latest cosmetics venture for the dynamic duo. The campaign which was shot by Solve Sundsbo captures the blend of sex and beauty that underpins D&G and in fact Marilyn and Scarlett.
The D&G cosmetics line is a first for Domenico Dolce and Stefano Gabbana; the range is set to be as equally glamorous as their cover star and reminiscent of true Hollywood style. The lipsticks will have a rose scent:
"We wanted to create makeup with a scent. Domenico and I remember when we were children and opened our mother's handbags — the scent of her lipstick trailed out. I observed that when women open makeup, they smell it first. Stefano Gabbana.
The range hits stores in March; you will then have no reason not to be every inch the Hollywood movie star!