Last Updated on 20th October 2013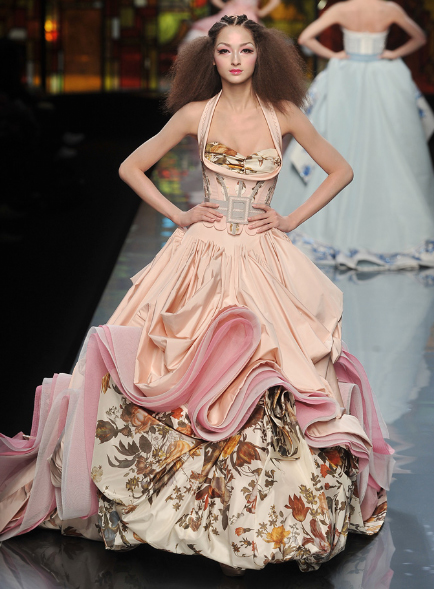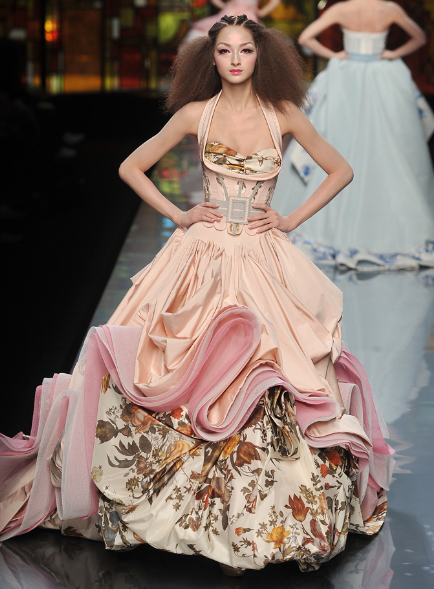 The Haute Couture season began in Paris this week with John Galliano's fantastically outlandish Christian Dior show – drawing on Flemish folklore for inspiration, Galliano's tremendous silk dresses were more Milkmaid than Mademoiselle.
ARMANI PRIVE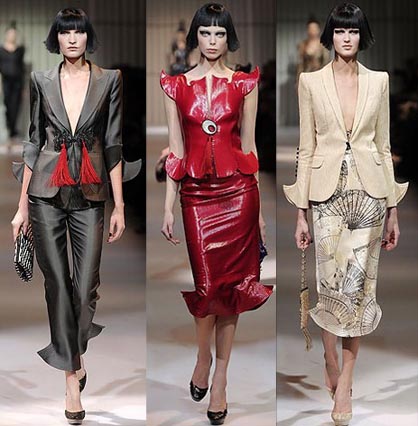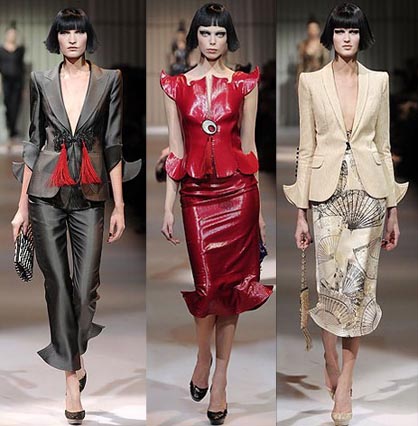 Also interpreting a foreign culture was Giorgio Armani with his Armani Prive collection. Armani's designs hinted of the Orient featuring tassels, fan prints and shapes, together with a rich colour palette of limes, blues, purples, and Spring's hottest hue, red. Also note the model's top-knots which were a feature at most shows.
ANNE VALERIE HASH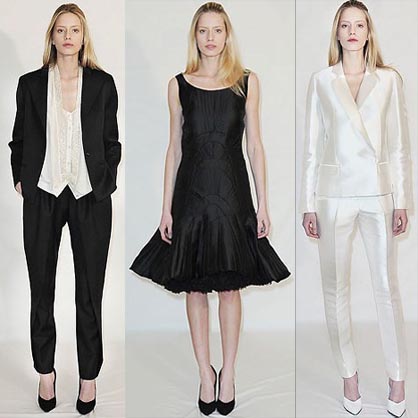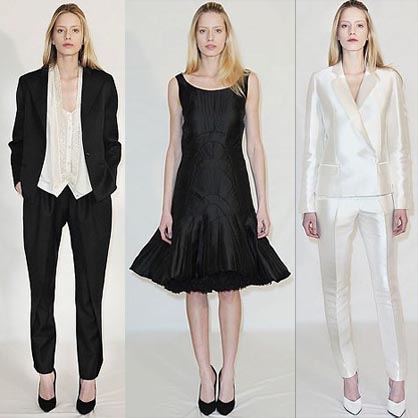 Anne Valerie Hash chose to show a reduced collection at her showroom this season in respect of the current economic downturn. Focussing on what she does best, Hash concentrated on le smoking tuxes and wedding dresses. Perhaps in homage to the recent passing of Yves Saint Laurent, the 'le smoking' has been a constant presence this week.
ALEXIS MABILLE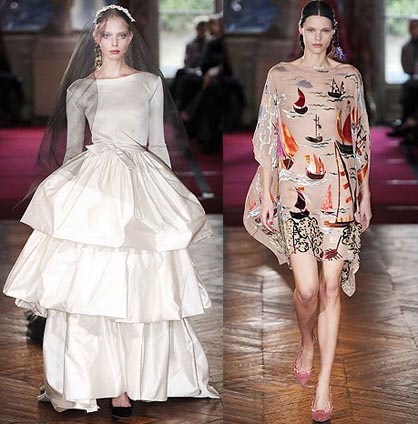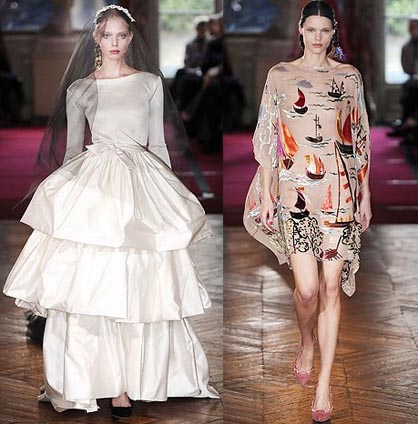 The new fashion favourite Alexis Mabille continued his obsession with bows and French fancies with his couture collection. Floor length gowns paired with pea coats, nautical prints, and quirky touches such as a wedding dress topped with funeral veil kept things French.
GIVENCHY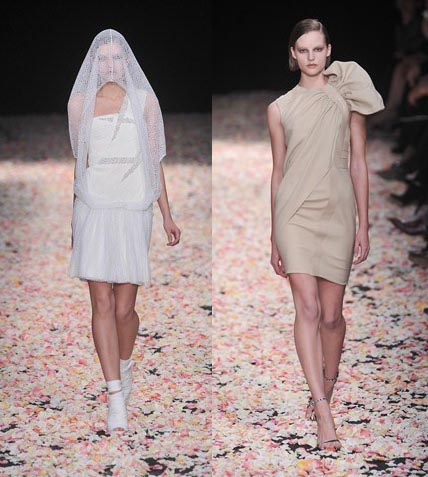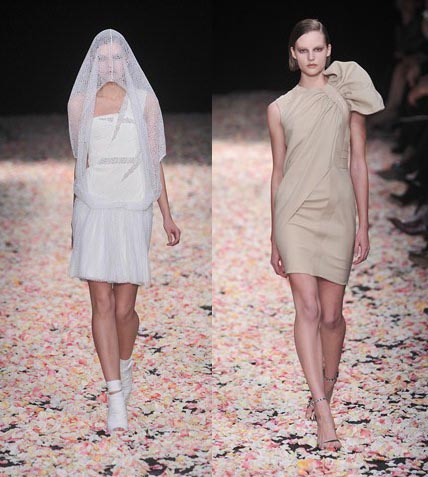 Givenchy's models were sent down a petal strewn runway in the most dreamy of frocks from designer Ricardo Tisci. Matte fabrics and muted colours put the focus on subtle details such as visible seams, gathering, and, once again, veils.
VALENTINO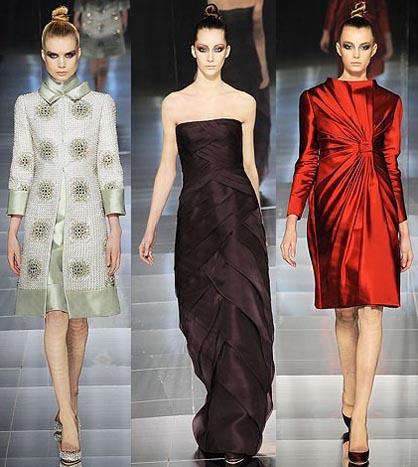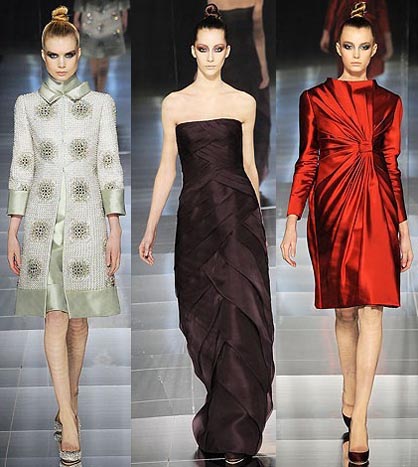 In their first collection for Valentino, Maria Grazia Chiuri and Pier Pablo trumped with beautiful 60s dress coats in jewel colours, embellished minis, and more than a few Oscar gown contenders. Simple and classic, Chiuri and Pablo triumphed with their lady-like chic.
JEAN PAUL GAULTIER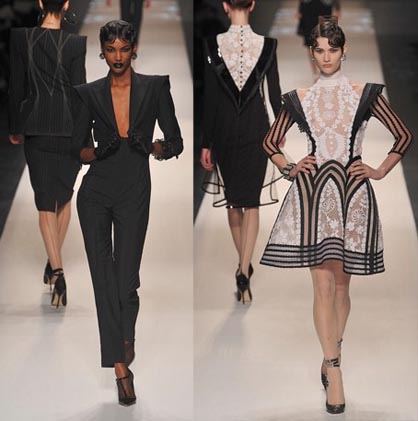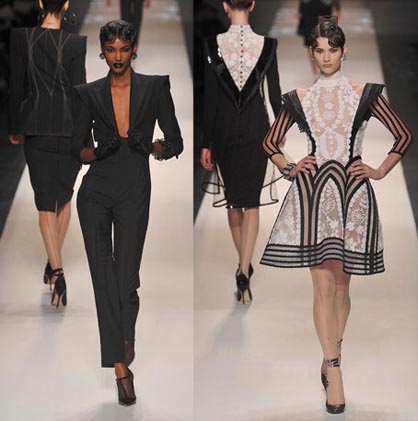 Last but certainly not least, a special mention goes to Jean Paul Gaultier. Exquisite tailoring and detail were present amongst his monochrome collection which screamed of the1980s and reminded of the days when Linda, Christy, Naomi and Claudia ruled the catwalk.